The Jarvis Family and Other Relatives
If you have reached us from Ancestry.com or another cached site,
please go to http://www.fmoran.com/holland.html to see the latest version of this page.
We welcome comments and inquiries. Please write us.
Holland Family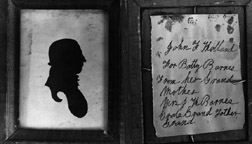 (Silhouettes courtesy of Betty Barnes Elias, a direct descendant of John Holland and Mary Hamilton Holland)
Letter dated dated June l, 1928 -- "When I was a little girl like you I had neither a Mama or Papa both were dead but the best of grand Mama who took care of me. I was sick most of the time none thought I could live but have lived to be almost 83.   When I dye I want you to have my grand Fathers and grand Mothers profiles probably you have never seen one, that is the way they use to take their pictures, and I want you to take good cair of them and keap them as long as you live and if you should live and get married and have a baby you can give them to it. They are your great graid grand parents. I have written own a piese of paper and pasted it on the back of both of the pictures who they are and that they are for you. You are the youngest grandchild I have. I never saw my grand Papa he died before my time."
---
John Holland was born in 1743 in County Cheshire, England and immigrated to the Moravian Settlement in North Carolina in 1773. He was the son of William and Elizabeth Holland who were prominent members and office bearers of the Moravian Church in London, England. While living in the Moravian Settlement John held various jobs including, hostler at the tavern, constable, farmer and gravedigger.
From the Moravian Records - Dec., 10 1773 - "The day after Brother Bagge's return the single Brethren Heinzmann, Schapiz, Wutroba and Holland arrived from Europe."
July 11, 1775 - We had a letter from John Holland, explaining that he came to Wachovia to settle on a piece of land and to get married. However since he has been here he has not approved himself in such a manner that we could think with pleasure of making such a change with him."
John Holland (1743-1810) m. 1) Maria Margaretha Strub (1753-1783); 2) Jacobina Schumacher (1758-1815)
---
Second Generation:

Children of John Holland and 1) Maria Margaretha Strub
Johann Friedrich or John Fredrick Holland (1781-1843) m. Mary Hamilton (1784-1856)

----------

Children of John Holland and 2) Jacobina Schumacher
Thomas Holland (1786-1869) m. Susanna Maria Hauser (1787-?; moved to IN by 1836)
William/Wilhelm Holland (1790-1860) m. Anna Elisabeth Schumacher (1785-1832)
Timotheus Holland (1793-1862) m. Anna Wright (ca. 1796-1849)
Benjamin Holland (1799) m. Catherine Brunner (also moved to IN)

Records of the Moravians in NC 7:3232. Feb. 2, 1815. The single Wilhelm Holland and the single Elisabeth Schumacher have married, according to their own self-will, and after a secret engagement made in defiance of our rules. This is the second time recently that cousins have married, and there was a discussion of the need for keeping a watchful eye on the association of such relatives to prevent the breaking of the rules of the congregation.
---
Third Generation:

Children of John Fredrich Holland and Mary Hamilton
Mary Ann Holland (1813-1847) m. James Jarvis Jr.(1800-1847) (A copy of her memoir)
Johann Alexander Holland (b. & d. 1815)
Friedrich Wilhelm (William) Holland (1817-1858) m. Susanna Hampton (1820-1892)
Louisa Carolina Holland (1821-1822)

-------------

Children of Thomas Holland and Susanna Maria Hauser
James Holland (1809-1877) m. Charity Miller, d/o Hermannus Miller and Salome Schauss
Eli E. Holland (1820-after 1860) m. Lydia Mitchell [date corrected 9/26/07]
Thomas E. Holland (1821-?). Did he move to Indiana?
John N. Holland (1825-?) m. Joanna Carter (?-1861); 2) Amanda Irons
Ellen Holland (maybe Anna Eleanor, mentioned in Moravian records abt. age 14 in 1831)
(there are other children in this family, names unknown)

*Note: the marriage bond for this couple has been transcribed as "L. Maria Hauser". We believe that she is actually Susanna Maria, daughter of Abraham Hauser and Magdalena Strub. Thanks to Stephen Miller for this information!

---------------

Children of William Holland and Ann Eliasabeth Schumacher
Rev. Francis Raymond Holland (1820-1894) m. Eliza Augusta Wolle, d/o Jacob Wolle, Esq. and Eliza Horafield
Sophia Elizabeth Holland (1822-1860)
Maria Henrietta Holland (1824-1850) m. Alexander Hauser (1822-?)
Augustus Timoleon Holland (1827-1855)

Maria Henrietta died in June, 1850; Moravian records refer to her as a married woman, so Alexander Hauser must have survived her. We have no record of him after this date, however. Does anyone know where he went, or when he died?

------------

Children of Timotheus Holland and Anna Wright
Rebecca O. Holland (1827-?)
Henrietta Holland (1829-1830)
Regina Holland (1832-?)
Junius W. Holland (1836-?)
---
Fourth Generation:

Children of William Holland and Susana Hampton
Cynthia Cornelia Holland (1843-1858)
Sarah Elizabeth Holland (1845-aft. 1920) m. E. H. Wright
John Winfield Holland (1847-1921) m. Sallie Davis (1847-1899), d/o Madison and Fanny Davis
Benjamin Franklin Holland (1850-1858)
Maggie Holland (1856-aft. 1920) (did not marry)

Records of the Moravians Vol. XII, pg. 6295: Monday, Aug. 30 (1858). Visited bro. William Holland. He and Sr. Holland and four children are sick with typhoid fever, as also a young man living with bro. Thornton and bro. Jacob Cook. Fri, Sept. 10 (1858). Stopped at brother Holland's. He is getting worse and says he will die, and Sr. H.'s departure is looked for every hour. Truly this is an afflicted family.

Records of the Moravians Vol. XII, pg. 6342. The funerals of Frederick William, Cyntha Cornelia, and Benjamine Franklin Holland wer preached at Hope by Brother Bahnson.....there were a good many persons present.
---
Sources:

Personal communication with Betty Barnes Elias, a direct descendant of James Jarvis, Jr. and Mary Ann Holland. Betty Elias passed away in 2001 in California.

Records of the Moravians in North Carolina, 12 volumes; Publications of the North Carolina Historical Commission

NC Marriage Records

Jarvis Family History

This page was updated April 4, 2002. Minor revisions were made on March 1, 2004 and May 30, 2008.

©, 2001-2007 Faye Jarvis Moran
faye@fmoran.com
---
Return to List of Family Names
Return to the Jarvis Family Homepage