Obviously, these letters meant a great deal to Nathan Jarvis as he and then his decendants kept the letters for over 140 years. Following is a list of letters and documents in chronological order. Keep in mind that it is believed that Nathan Jarvis left North Carolina for Missouri about 1851 or 1852.
If you are related to this family or are researching the Jarvis family, please email any or ALL of the following people: Edna Royster at epjpr@sofnet.com - Jane Burns at JBurns1951@aol.com - and Faye Jarvis Moran at fmoran@erols.com
Clemmonsville, Davidson County, North Carolina, February 20, 1854

Mr. Henry Douthit,

Dear Sir,
I received a letter from you some time ago which aforded me much pleasure and gratification and I hope you will excuse me for my neglect in writing no sooner. I am glad to hear that you all all alive and kicking away out in the State of Missouri. I would like to interest if I could but I have nothing of very particular importance to communicate. It is very clear and evident case that the old North State that gave you birth and where many of your nearest relations and best friends lay buried beneath the reverent sod of their native soil is on her march to wealth and distinction and a respectible standing among the States of the American Union. Our railroad will soon be in successful operation. The cars are running on 12 miles of the Eastern end of the road and the iron is being laid on the other and when they meet such a clelbration as we will have has never been witnessed in any state. The plank road is completed from Fayetteville to Salem and other improvements are going on all over the state. We are giving hirelings from 7 to 9 dollars per month on the farm, wheat is selling at $1.00 per bushel, corn 75 cents, oats from 40 to 50 cents, bacon 12 1/2 and it is supposed that it will be much higher. Henry Cooper was drowned in Muddy Creek at Davis and Kimbles Mill about two weeks ago and has not been found yet. The creek was up and he carried Riley Brewer across from the other side and started back with the boat and was about to be carried over the dam when he jumped out and was drowned. I am very glad to hear that you are well satisfied and I hope that you will prosper and thrive in the good State Missouri. As to my part, I expect to die on the soil of my birth among those that are near and dear to me by the ties of friendship and relation and to who I owe my existence and be buried beneath my native soil. I have been living in my own house about 12 months. We have a boy that is over 13 months old and can fun about and say pappa and call for titty. We have rebuilt our mill in first rate style. We started it last November. As my time is limited and I have nothing more that would interest you, I will stop by requesting you to write when he is coming back. I would like to see him. So no more at present, but ever remain your friend.

Jacob Hanes
---
Clemmonsville NC, March the 27th, 1854

Mr. Nathan Jarvis

Dear Sir,
I do not know how to write to you but I will tell you one thing, I don't believe you care one straw fro me or about me.  I have been waiting to hear from you for the last twelve months without receiving a scratch of a pen from you and now if you are alive I want you to write me a great long letter and tell me all about the great State of Missouri and if you are dead just lay still and don't way a word.  This old North Carolina is coming out and is waking up and wiping her eyes and is beginning to see herself as she is.  Railroads, plank roads and navigation is the only things spoken of an if you don't hurry home you will not know the old north state when you get here.  I have enought in my head to fill all the paper I have got but for fear you are dead i will save it.  Write tome and tell me whether you are alive or not.

Respectfully, Jacob Hanes.
---
June 18th, 1855

Mr Dear,
Sir, I received your letter sometime last winter. As I haven't it by me at this time I cannot tell the date but we are generally well at present and hope these line(s) may find you enjoyingthe same blessing. Your mother keep(s) well as common though somwhat febel from old age. Bryan('s) wife departed this life a few months agao. Hogan lives where Henry lived and are all well. Sarah and Erasmus Phelps are married and have one heir, she is very low but is now on the mend, was thought not to recover. Joel is well at present but has had several spells since you left. He sends his best respect to you and says he has two grandchildren that beat all - boy and girl - one over 2 1/2 years old one over 1 year old. I expect to raise a many a watermelon this year if no bad luck. Corn looks small here, oat tolable good, wheat good generally. Joel has the best crop for corn ever I known him to have. Wheat is worth $1.50 cts per bushel. Corn $1.00 per bushel, labor is high cradling $1.50 ct per day or what hand -----, mowing 62 1/2 cts per day. Times are generally good, money tolable plenty. Mr. E. D. Hampton was elected sheriff. Lewis Hanes resigned. I have a good many things to write that I cannot think of at present. Come see me some long winter night and I will tell you all about it. Please write soon as this comes to hand and don't make it so long between hand. The first letter I have received from your since you left N. Carolina, this makes the 3rd or 4th letter I started to you. Direct your letter to Clemmonsville as usual. So I must come to a close by aserting myself your friend til death.

To Nathan Jarvis from Edwin Hanes

Joel Davis says write to him as soon as this come to hand and let me know when you are coming to our North Carolina again.
---
Clemmonsville, Davidson County, North Carolina, December 25th, 1855

Mr. Henry Douthit Esqr,
Dear Sir, I believe that this is the first time I have addressed you personally since you left here and I hope you will excuse me for my negligance since I am generally busy through the day and tired at night I rote a letter to Nathan about two weeks ago which you have no doubt read.  We are all well and in good spirits this dreary Christmas Day it is raining very hard all day and is near the freezing point.  Please tell me what sort of day it was in Missoury.  Pappa and Susan and Polly are living together yet and request me to give you and family their best love and respects and requests you to write often.  I would like to know all of your relations that went from here are doing, where they are and so on.

My first child is three years old tomorrow his name is Andrew Thomas the other is three months old the next day her name is Molly. 

Edwin has two children and another on the way.

Lewis has had three and another close about.  Little Thomas is dead.

Sarah you are perhaps aware is married to Erasmus Phelps they have one child.

Hogan married Emily Berriman and has one child and is living in the old Shutt house and works for Lewis.

Offa Shutt has been married once his wife is dead having a small child poorly provided for he married Robert Berrimans daughter. Wesley has been in Indiana and back again and now lives in David county.  His father and two little girls live together with him.

Christina is married to one Jarvis, a widower with two or three children.

Briant married Rebecca Livengood but she died when she had her first child the child was dead when it was born or died shortly after.

Times are on the mend in the Old North State the rail road will be done about the first of January at which time there will be a great celebration at Greensboro.  Wheat is worth a dollar and a half, conr 62 1/2 cents from the heap, pork is worth from severn and a half to eight dollars, other things in proportion.

There is many other things that I might write about but I reserve them until I hear from you.  Write as soon as this reaches you.  Please excuse my bad hand and still worse composition as I have written in a hurry.

Very respectfully, Jacob Hanes
---
---
Clemmonsville, Davidson County, N. C. June the lst, 1856

Mr. Henry Douthit Esqr.

Dear Sir,
I received your letter of the 12th of April yesterday evening. It give me much pleaseure to hear from you after waiting five months for an answer to my letter written on Christmas Day. We had the coldest winter that has been experienced in fifty years. It snowed sixteen inches deep on the 5th of January, on the 10th the mercury was down to 6 degrees below zero, on the 12th it snowed 6 inches more, on the 20th it snowed 1 inches more, on the 26th it snowed 6 inches more, on the 3rd of February it snowed 2 inches and on the 4th the mercury was 12 degrees below zero, the coldes weather I ever knew in this latitude. It snowed five times in March, on the last day of March it snowed from early in the morning til noon. William and Thomas Woosley were well two weeks ago and also their families, why they have not wrote to you I do not know. I will show them your letter the first opportunity. Alexander Haly and family are well, they make out to live and that is about all. I have no doubt but they would live better if they were in Missouri and I have no doubt but that most of their neighbors would be glad if they were there. Christina Shut married Jonathan Jarvis, a son of Burton Jarvis. She died when she had her first child about a month ago. Jarvis was a widower and had several children by his first wife. Theofelus Shut married Robert Berimans' daughter and she died when she had her first child. He is working about and living from hand to mouth. Jacob Faws (?) family are well and doing finely. Rebecca was married to Wesley Johnson last fall, they have both joined the Dunkerd Church and are living on the old Martin Place. Your old place belongs to Nelson's heirs, Charles Brindle has married Amandy Mulican and is living on it. Mulican has sold the old Thompson place to Charles Brindle and the old lady has sold him her dour. He is going to build near the old house, use that for a kitchen, move in to it and live on rabbits, strawberries and casafras tea. Aunt Betty Thompson Jiles and Suse and her two children are living with Burrel Brown and he is staying in the little house that Daniel Long built near Mocks Sawmill. I believe they make out to live or at least they were all alive when I saw them last. Old Aunt Saphian Cooper is living at her old home and is supported by her neighbors. Junior Alberty is married to old Hank Wears daughter and neither of them are worth a chew of tobacco. He lives where Alford Mathealy lived when you left here, if you ever see him coming out there, you will see somebody dragging him by the heels for he is certainly too lazy to get there any other way. I now come to ourselves, we are all well and getting along tolerable well, Lewis is building a new house or rather adding to the old one, it will be the same width of the old one, 42 feet, two stories high with an addition on the backside, 12 feet wide and a portico in front, all to be painted. It will cost him about six hundred dollars. Pappa, Susan and Polly are here in the old homestead, he owns all of Edwins land or the land that he formerly owned on this side of the creek and farms to himself. I own all the old home place and a portion of Edwins woodland tract or about ten or twelve acres of it. Pappa wants to know whether old Jacob Douthit is living yet and if he is, how he is coming on and where he is living. We want to know how Evander Meiver Douthit is doing, if living and where he is. I want to know where to direct a letter to Nathan. I have written two letters to him, two or three times since Christmas and have had no answer to either of them. I will reserve something for another letter and will close by requesting you to write upon the receipt of without a moments delay.

Very respectfully,

Jacob Hanes

To Henry Douthit, Seneca, Missouri
From Jacob Hanes, Forsyth Co., N.C.
---
Clemmonsville Davidson County, North Carolina
August 24, 1856

Mr. Nathan Jarvis Esqr.

Dear Sir,
I have received your letter of the 5th of July you say that you have received only 3 letters from me in all.  I do not remember precisely how many I have sent but at least a half dozen.  We have had remarkably dry and hot summer, corn will hardly make one third of a crop in many places and not more than half on an average.  Throughout the State one dollar is offered but there is none to see.  Wheat crops were good.  My self and Lewis hauled four hundred bushels to Lexington at one dollar and fifteen cents and Pappa Starts tomorrow morning with a load at a dollar and twenty five cents.  Bacon is scarce and is worth 15 cents.  The election is just over and the democrates have carried the State by a large majority in Davidson.  J. W. Thomas is Elected in the senate and Leoch and Walser in the Commons.  Hampton elected Sheriff without oposition in Forsyth all democrates elected.

Your People are all well.  Bryant has bot. part of the old Thompson place he is getting along tolerable well.  Hogan is living on the Sheets place he is not doing much.  He has spent every thing he had and just lives from hand to mouth.  He is a trifeling ill sneaking good for nothing  .......... (can't make this word out at all) always ...... at every body and nobody likes him.  Lewis will turn him off shortly and if he don't quit getting young ones or do better in some way he will let his family suffer.  He has two children at home.  I received a letter from Lemeul Faw last week he also sent me his likings.  (?) I can't see that there is much alteration in him, he is at work at the carpenters trade at the rate of four hundred dollars a year.  If you want to write to him direct your letters to Montgomery Texas.  I have no doubt but he would be glad to hear from you.  He often speaks of you in his letters.  I would like to write more but have not time now.  Please write us soon as you get this.  I am ready and willing always to answer any questions about people and matters and things in general that you may ask.  Pappa Susan and Polly send their love and respects to yourself and to Henry Douthit and Family.  Please remember my love to Henry Douthit and also reserve a good portion to yourself.

Very respectfully,
Jacob Haines
---
State of North Carolina,  December the 14 1856

Dear Brother (Bryan Jarvis to Nathan Jarvis)
I take my pen in hand to write you a few lines to let you know how we are coming on at this time.  We are all common health at this time, but I must say with sorrow that our brother HOGAN has left us all.  Hogan Jarvis departed this life in the year os our Lord 1856, November the 17th.  His age was 26 years 2 month and 27 days.  He had been on the decline all fall, he died with fever and bleeding at the nose, he had been bleeding every day for 2 months.  He bled 40 hours without ceasing and died.  He left a wife and two children.  Dear brother, I received your letter on the 8th day of December which gave me great satisfaction to hear that your yet in the land of the living.  Martha Onsly was (at) my house today.  Onsly's are all well at (this) time.  Thomas and Martha Onsly have four children.  Martha wants you to come back to the old North State come come come come back NC  Market price wheat of $1.25 ct per bushel, corn in 80 ct. per bushel, bacon is 15 ct per lb, pork is $8.17 per hundred.  Come back to the old NC  I thank that the old North State is improving price of workhand is about $10 per month or $.50 per day at common work.  When this you see.  Remember me the many many miles a part we be.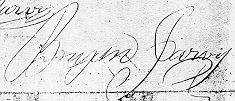 Bryan Jarvis, his hand on pen this December 14th, 1856

Dec 14th 1856
Come back to NC Do
I want you to come as soon as you can, there will be three tracts of land sold here next fall.  I want you come and buy one (of) the places for sale is the Henry Douthis land will be sold and three more tracts.  I want you to write to me when this come to hand.  I must come to a close.  I remain your affectionate brother until death.

Bryan Jarvis to Nathan Jarvis
Bryan Jarvis
---
Clemmonsville, Davidson County, N.C. January the 18th 1857

Mr. Henry Douthit and Nathan Jarvis Esqr.

Sirs, We are in the midst of one of the severest snow storms that perhaps ever occurred in this latitude. It commenced snowing last night about nine o'clock with the mercury at thirty four degrees. The wind rose up very soon after and it has been getting colder ever since. The mercury being down to ten degrees since twelve o'clock today, it is now eight o'clock Sunday night and still snowing very fast, the wind blowing like a storm all the time taking down trees and fencing in its resistless fury. The snow is about fourteen inches deep generally and in many places near waist deep and no prospect of its ceasing tonight. This leaves us all in good health and fine spirt with plenty of good dry wood and nothing to do but chop it up and keep a good fire, sit by it and write to you about the storm that is raging without. I would have written sooner but I have been waiting for an answer to my last letter to you and being very busy in the fall pushing on in order that I might take a little pleasure is another excuse you will please permit me to offer. I have been to Raleigh, Hillsborough, Greensborough, Salisbury and Wadesborough since the fourteenth of October. I returned from Wadesborough on Tuedsay the twenty third of December, one of the coldest days that I ever felt except today. The mercury being at twenty that day at twelve o'clock and at ten today. Since that I have made over five thousand shingles, cut a set of kitchen logs twenty eight by fifteen feet and butted them off and barked them ready for the line and --- one and have had ice to skate on from four to five inches thick all the time. I don't say these things to be bragging but just merely because they are so. I presume you have heard of the death of Hogan on the 24th of November. He was living on the place that you left having rented it in the fall. Bryan went his security and holds onto the place. He died in debt about two hundred dollars which will all be lost. I have been looking for you in here Nathan for about two years but have been disappointed all the time and now I can tell you old man I don't want you to write anything more about coming unless you intend to come. I would like to very much see you and so do all of your friends here and you had us all looking for you like fish hooks over a mill pond but low and behold we were doomed to disappointment, but I still hope to see you at no distant day. I want you to write often.

Monday morning January the 19th. It stopped snowing last night about ten o'clock and is now eleven o'clock on the day and is still the coldest weather I ever felt. Muddy Creek is completely frozen up and snowed under. I will stop writing until I hear from you, for it is too cold to write, my ink being frozen.

Yours truly

Jacob Hanes
---
Clemmonsville, Davidson County, NC  July the 12th 1857
Mr. Nathan Jarvis, Esq.,

Dear Sir,
I received you letter of the 6th or June yesterday.  I am glad to hear that you are about to establish for yourself a home but am very sorry indeed to hear that there is a strong probability of my hopes of ever seeing you again being blasted perhaps forever.  You have flattered us into the belief all along that you was coming to see us as soon as an oppotunity offers itself and now to come out and say that you are perhaps never coming.  Nathan it makes me fee sad if you don't intend to come.  I would much rather you had never said anythng about it but we will have to abide by your will, be that as it may.  I think from your letter that you have a faint notion of taking to yourself a wife if things should work to your notion.  Well all that I have to say to it is do it just as soon you get one in the notion the sooner the better, for if I remember correctly you are getting old.  I am glad to hear of your Uncle Abrams good fortune in his old age and mey he live long to enjoy the fruits of his good luck and at last go down to the grave in piece.  Papa had a good laugh at your humorous hit at his matromonial prospects, but he is as cold as a wedge on the subject.  I don't believe that forty old women with their tongues wound up and let loose at him could get him in the notion to marry.  Joel Davis is just what he was when you left here in every respect.  He is getting along about the same, enjoys about the same degree of health, wealth and women that he did when you left.  Edwin is doing very well, Ruth is not a very stout woman.  They have three children alive and one dead, pretty good speed I think.  I have two children one four and half years old and the other two, there is no prospect of another yet.  In fact I have the number I laid off for myself long before I was married a boy and a girl.  This is a much better county for the farmer than it was when you left.  Every crop of wheat since you left has been first rate and wheat has averaged one dollar and twenty five cents.  All the time there is getting to be an abundance of wheat raised in this state.  There was ten thousand bushels of new wheat from North Carolina landed in Yew York two weeks ago, it is worth one dollar and quarter in Lexington.

Lewis's family is all well.  Last year he made between five and six hundred bushels of wheat, but this year I shall break him.  I might write a good deal more but my news boy is ready to start to the office and I will have to stop.  I want you and Henry both to write as soon as you get this and I will answer you.  Give my respects to Henry and his family.

Very respectfully yours,
Jacob Hanes
---
Clemmonsville, N. C. - April 28, 1858
Mr. Nathan Jarvis

Dear Sir,
I received your letter dated February the 7th a few days ago but have not had time to answer it til now. From it we were all glad to learn that you and all the rest of our friends in Missouri were well and doing well especially of your having bought so good a bargain in a tract of land which we consider the best property that a man can own in a new country as the value of it will always be increasing. The times have been very hard in this country for sometime but are now improving. Prices are not so high here as they have been. Wheat is worth 35 cents, corn 45. A good horse cannot be bought here for less than 150 dollars. The spring has been very late here; and the weather is very cold now, there being a hard frost both yesterday and this morning. We are not done planting corn here yet, but I expect to finish tomorrow. There is not much news of interest at this time. People are generally well at this time, though old John Onnell (Orrell?) died night before last, and is buried today at Shady Grove in Davie County. He was living in the Greenberry Pitticovel (Peddicoard?) place when he died. Your mother and Bryan are well and were glad to hear from you. Bryan spoke of writing to you shortly. He is a widower yet, but is beginning to look about a little. The wheat crop looks very promising, and if the frost did not hurt it this morning, there will be the largest crop made that ever was in this country. I did not get done sowing last fall owing to the wet weather and therefore will not make a very large crop myself, not much over fourn hundred bushels. I am still living at the same old place but in a very different house. I am now living in a new house 30 feet wide by 72 feet long, 2 stories high with a passage and 6 rooms, 3 chimneys and five fireplaces, 24 windows, the glass 10 by 15 inches, 2 lightening rods, painted as white as snow outside and I am going to plaster it inside next week. A new framed kitchen, 22 feet long painted white, in fact, you never would know the place again in the world if it was not for the mill pond. A good many of our people are talking about moving to Arkansas. But I do not think any of them will go except John Hussey who has already sold his land and is going in the fall. We would like to have some of the seed of them big turnips you wrote about, but for Gods sake don't send us any of them big buzzards. Pappa and Jacob and their families are all well and doing well, so is Edwin and his family and all the rest of your friends in this country. Well Nathan you say you have a great country, and I have no doubt you have, but if you could see how this has improved you would begin to think that we had a great country too. It is true we have not such large turnips and big buzzards as you have but we have what is better, we have large men and pretty women. And if we was not so extravagent we might have plenty of money. I suppose I need not ask you when you are coming to see us for you will never come till you can get company. If I ever get rich - but I am afraid I never shall - I intend to travel some and if I do I expect to go to MIssouri and come to see you. But I shall get my letter so long that you will never read it through so I will close. Please write again soon. Give my best respects to Henry Douthit and his family.

Your friend,

Lewis Hanes
---
Forsythe Cty., N. Carolina - August 15, (18) 58

Dear Sir,
I received your letter dated May 10 it found myself and family enjoying tolable good health, old Uncle Joel has been very unhealthy last winter, and this spring he had several hard sets though is tolable part now. We have had four children - two girls and two boys - two dead and two living. There has been a good many deaths for the last twelve months, John Wesley Johnson and child, Jacob Livengood, James and wife, John Onel (Orel?) have died. Your mother-in-law and Luisia are both dead, Sarah is living, to which we gave the clothes. Times are tolable hard, drought severe, corn will not make a half of a crop through this neighbor-hood though we had some fine light showers the lat of the week that revived up vegetation somewhat. Wheat is worth from 80 to 90 cents per bushel and will soon be one dollar. Two thirds of wheat crop was raised. Myself raised 138 bushels of good wheat, Joel 216. Joel says come to see him as soon as you can and bring your lady with you if you have made your aquented with her yet. Excuse me it I do not write much as I have been making hay. I have hauled 22 loads in my barn in 4 1/2 days, and have 8 loads in the meadow yet. I go it with a rush when I go it at all. Tell Henry and family I have not forgotten them yet and I wish them well and am very glad they propsper so well. I must tell you that old Uncle Thomas Hanes is well as usual and can eat just as big a mess of barbacue as ever. Your relations are well at last account. This section has improved a great deal since you left N. Carolina being good mills erected, better houses built and land improved. Railroads in operation and to which I must come to a close. Write so soon as this comes to hand and I will write letter worth reading. Please excuse delays. Your most true and affectionate friend til death.

Edwin Hanes to Nathan Jarvis and inquiring friends.

N. B. Direct your letter to Clemmonsville P. Office Davidson County. as usual.
---
Clemmonsville, N.C. January the 28th, 1859
Nathan Jarvis, Esqr

Dear Sir,
I received your letter of the wnd this morning and I feel considerable relieved for I certainly began to conclude that some great calamity had overtaken; and put a stop to your writing, or that you had wondered so far back into some backwoods corner that you could neither get paper and ink, find a Post Office on your way back, but your letter discloses the whole secret; your Post Office has changed names, or you have changed your Post Office. I wrote two long letters to long ago that I have forgot when; and directed them to Sarcoxia and waited all this time. God knows how long for an answer. One thing I do know; it has been so long that I had forgot all about you and the whole matter until this morning a brother of mine, by the name of Lewis, handed me a letter and told me it was from a man by the name of Nathan Jarvis and he ask me if I had any knowledge of such a man, I told him that I did not know that I did. I ask him if he had read the letter and he said that he had just looked at the bottom of the letter to see who it was from, all at once, he said, why I remember now, he is the very fellow that used to work for me and if I remember correctly, he went away from here with a man by the mane of Henry Douthit who used to live up here where Jake Doty lives, by this time I began to see into the whole thing. I run home and me and my father, whose name is Thomas, opened the letter and read it, and it all came back into my mind as fresh as ever. I remember now when you went away and about your writing to me and my brother sometimes a long at first, about my writing two long letters to Sarcoxia, and my thoughts about what had become of you, which are stated in the first part of this letter, well things will turn around quite strange sometimes, and the strangest thing about this affair is that you did not write for so long a time that we had forgot all about you; as to your not answering them two long letters that I sent to Sarcoxia, I see into that now you see I was writing to one place and you was a way over yonder at another. Another strange thing is that you seem to remember the people about here as well as if you had been corresponding with them all this long time, you must have a great memory. you ought to of had an education; and if I was in your place and had your memory I would go to school yet, you wish to know how these old people that you still seem to remember something about are coming on. I am so much confused with surprise and astonishment that I do not know whether I can or not but I will try. Edwin Hanes and family are well and doing pretty wel, or course they are too stingy of course to spend near all they make. They have had five children but two of them are dead. Bryant is keeping about even I suppose, he is living with his mother yet or she with him just which you please; they are both well. Woosleys people were well when I heard from them last. There has been no change in Alexander Halys family in ten years. They enjoy about the same degree of health, are just as lazy and tell as many lies as ever. Joel Davis comes next, he is doing like he has always done, has a plenty to eat, to drink and to wear and keeps a woman just like always. The three families here in our town are all well and doing just tolerable well I thank you. I have two children, one boy six years old the 27th of last September. There was no prospect of another yesterday evening but I don't know how it is this morning. It seems to me that sombody told me that somebody else told them that somebody got a letter from you a long time ago and you said you had a notion of getting married and squatting down for life, but I preseume you did not or if you did it has been so long ago that you have forgotten it. I believe I have written about all that I can think of at one time and I want you to now to write often enough at least to keep from forgetting you and tell that man Douthit that went away from here with you that I want him to write too. I forget whether he ever wrote or not. Well, I must quit and I want you to sit down and read this and answer it before you take your apple dumplings off of the chair.

Very respectfully,

Jacob Hanes
---
December 29, 1860

Sir,
I take my pen in hand to drop you a few lines for the 3rd letter addressed to you without receiving an answer. I received a letter address to my father-in-law dated the 11th of November to which I opened and read knowing that he can never look upon the face of your last letter upon earth. Your letter found me in bed with a severe attack of punemonia, though I am well and tolable stout again. My family are tolable well at present with the exception of colds. Your friend Joel Davis departed this life October 8, 1860. The dead (deed?) has not been able to leave him for several months he enjoyed very little satisfaction towards worldly comforts having not been from home since August. He was then at treasures paying, this was his last ride home. Your relations are generally well, you mother is as well as common. Times are tolable hard and seems to grow harder and also exciting. It is not known whether North Carolina will secede or not, I hope not. I could write a great deal more but perhaps nothing of great importance, excuse me for writing no sooner for I have had a good deal to see to. Please write as soon as this come to and don't delay. I will answer every letter you send me without delay. Give my best respects to Henry Douthit and family and let him read this. So subscribe myself your friend and well wisher.

Edwin Hanes
---
Salisbury, NC Aug 21st 1866
Mr. Nathan Jarvis

Dear Sir

Your letter directed to my father and making inquiry concerning your mother and relations was received a few days ago.  Some years have elasped since we last heard from you - years ever to be remembered as the years of fratracidal strife - of carnage and blood shed.  Within that time mighty changes have taken place - a great social revolution has been accomplished, and the whole Southern Country has been disolated and impoverished.  Almost every hearthstone has been made disolate, and every household has been closed (clothed) in mourning.

Your mother is no more - she died last April, was a year ago just before the close of the war.  Your brother - my brother - in -law BRYAN JARVIS died a prisoner of war at Point Lookout, Maryland during the war.  Your brother-in-law ERASMUS PHELPS died in the Army during the war.  None of your near relations are now living except your sister Sarah and her children.  They are living in my land-the Shutt place.  Old William Woosely died about two weeks ago, but NANCY survived him.  Thomas WOOSELY and his are still living.  A large number of your old acquantances have died since you left.  The FAWS are all living yet so are the MULLIKINS, the DAVISES and the BRINDLES except young DAVID.  My father is also living yet.  You can scarcely realize the condition of things here without visiting the country.  My brother JACOB died in the army.  Your relations here as well as mine were Union men, and were forced into the Army by the Conscript Laws.

The War has swept away all of our property and has left us very poor indeed.  I am scarcely with anything now.  But I have made for myself a name and reputation since you left here.  I have been several times elected to the legislature and am regarded as one of the ablest political writers in North Carolina.  I have been publishing a newspaper in Salisbury for the last five months, but the times are so hard I expect tohave to quit it very soon.  I send you a copy or two by the same mail that brings you this.

I am now one of the members of Congress from this State, but the Northern members have not yet permitted me to take my seat.  I beat the Hon. Bedford Brown, one of the oldest and most popular politicians in the State.  If I should be admitted during the next session and get my salary I should be in very good circumstances again.

I collected the account you had on WALKER, but have no money to send you now.  If I should ever get my salary, which I think I will, I will send you money at once.  If I do not get that I don't know when I shall ever be able to get any money.

I was very sorry to hear of HENRY DOUTHITS misfortunes.  Please show him this letter and tell him that I have not forgotten him.

Direct your letters to me at Clemmonsville, North Carolina as I may leave Salisbury soon.

If I should ever get my seat in Congress I will write to you and send you your money from Washington City.  I certainly ought to be admitted as I was a Union man throughout the entire war.

I am, Dear Sir, very truly your old friend,

Lewis Hanes
---