Going Home for History, Wilkes County, North Carolina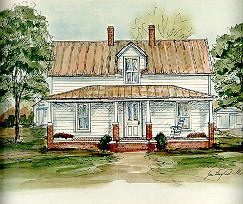 William Morgan Proffitt Family
William Morgan Proffitt was born July 08, 1759 in Goochland County, Virginia, and died December 16, 1823 in Lewis Fork, Wilkes County, North Carolina.  He married Elizabeth Elmore January 10, 1783 in Wilkes County, daughter of Thomas Elmore and Rhoda Thorton.  Elizabeth was born June 20, 1761 in Goochland County, Virginia and died January 10, 1862 in Lewis Fork, Wilkes County, North Carolina.
During the King's Mountain campaign of October 1780, William C. Proffitt, was assigned to  Colonel Benjamin Cleveland's Regiment of North Carolina Militia as a teamster and cook for Captain Lenoir of that regiment.  Later,  in January 1781, he volunteered to serve with North Carolina Militia forces against the British Royal Legion under Lt. Colonel Banastre Tarleton.   William Proffitt fought in the Battle of Cowpens (January 17, 1781), the Battle of Eutaw Springs (September 8, 1781), and in several smaller skirmishes  in South Carolina. He was a son of Reverend John Proffitt, Senior, and a grandson of Sylvester Proffitt. 
Who are the parents of Frank Noah Proffitt ?
---
First Generation:

Children of William Moran Proffitt and Rhoda Thorton
William Morgan Proffitt, Jr. (1803-1888) m. Mary Walsh
---
Second Generation

Children of William Morgan Proffitt, Jr. and Mary Walsh
Elizabeth Proffitt (1829) m. Jesse Miller
Rhoda Proffitt (1831) m. Lindville Land
Andrew J. Proffitt (1834-1865) (died during Civil War)
Rachel L. Proffit (1836) m. George Jackson Ball
William Harrison Proffitt (1839-1863) (died during Civil War)
Alfred Newton Proffitt (1842-1929) m. Sarah Anne McNeil (1849-1921)
Calvin Luther Proffitt (1842-1863) (died during Civil War)

In August 1862, Andy (Andrew) and his brother Alfred joined the 18th. North Carolina regiment at Camp Hill, North Carolina, and with less than a week's training were sent to Virginia and  placed in Branche's Brigade of Stonewall Jackson's Division just in time to march north and take part in the battle at Antietam, Maryland.  Andy was captured on 12 May 1864 at the mule shoe salient near Spottsylvania. He was sent to a prisoner of war camp at Point Lookout, Maryland.  On 15 March 1865 word was received that Andy had been exchanged and was in a hospital in Richmond. Andy died here, sickened by his imprisonment. 

Harrison Proffit enlisted on 27 May 1861 (just 7 days after North Carolina seceded from the Union) and at Camp Edwards, the Wilkes Valley Guard's were mustered into the 1st. North Carolina Regiment as Company "B". Harrison fought in the seven days battles, Fredericksburg, Chancellorsville, Winchester and Gettysburg. On 18 October 1863, he was reported as sick (disease not known - probably rheumatic fever) while on the march to Manassas. He was sent to the hospital in Gordonville, Virginia where he died on  25 October 25, 1863.

Alfred Newton Proffit was one of four sons of William Proffit, Jr. who served in the Civil War. He was the only one to return to his home at Lewis Fork in Wilkes County, North Carolina. He served in many battles and was with General Lee at Appomattox where the army of Northern Virginia surrendered. He received a number of injuries while fighting in Northern Virginia. On May 9, 1864 in the Battle of Wildness Road, he was shot in the head. He had frequent headaches for many years after that. One day he sneezed and a large portion of a minnie ball was discharged from his sinus cavity where it had lodged during the Civil War. This bullet is in the possession of Charlie Wright Proffit, a grandson who also lives in Wilkes County. As a young man, Alfred preferred the land to the school room. He was a fun loving boy with an eye for the girls. Like most Proffit's of his time, he had dark eyes and hair.

5 Nov 1862...Pvt Calvin Luther Proffit joined the 13th NC Reg., A.P. Hill's Division, Jackson's Corps. This is an excerpt from the Book, Four Brothers in Grey.  It is part of the letter Alfred  Proffitt wrote to his  parents, regarding the death of their son, (his brother),.....

" I have  the sad & heart breaking news to write you of the death of our beloved brother, Calvin.  He departed this life March 25 (1863),  The doctor who attended him in his last hours said it was inflamation of the brain.

I have been informed that he died quite easy.  Without a word or groan, he clowsed (closed) his eyes and seemed as if he had dropped into a deep sleep."

Letter from Andy:

"I suppose you would love to know how he was put away.  Well, he was washed and clean clothes put on him and his officers buried him with their own hands, a thing I have never seen done before since I have been in service...      We  buried him in a nice place in an orchard...."

Letter from Harrison:     " Sad as the thought is, it is no worse that thousands have endured since the commencement of this unholy war.  I hope you will try to refrain as much as possible from unnecessary grief, as it is a thing of no avail..."
---
Third Generation

Children of Alfred Newton Proffitt and Sarah Anne McNeil
Robert Lee Proffitt (1871-1952) m. Martha Alverta McNeil (1876-1965)
Benjamin Franklin Proffitt (1872-1944) m. Ella Thompson (1886-1983)
Lougerta Lenora Proffitt (1874-1937) m. Joel Grey Triplett (1867-1942)
Augustus Judson Proffitt (1874-1937) m. Wilmoth "Willa" Ila McNeil (1890-1968)
Wade Hampton Proffitt (1876-1915)
George Hamilton Proffitt (1880-1954) m. 1) Sarah Lou McNeil (1879-1933; 2) Annie Taylor (moved to Wyoming)
William Albert Proffit (1880-1954) m. Mary Lou Walsh (1885-1974)
John T. Proffitt (1882) m. Maggie Withelm (m. in Nebraska)
Mary Lavisa Proffitt (1885-1929) m. Samuel Gibbons Triplett (1997-1959)
Sarah Elizabeth Proffitt (1887-1977) m. 1) Robert T. Taylor (1887-1942); 2) Albert S. McNeil (1885-1957)

Gertie (Lougerta Lenora) Proffit was born and raised in Wilkes County and a twin to Augustus Judson Proffit. After the death of her husband Joel, she lived with William Albert and Mary Lou Proffit until her death on Jan. 6, 1953. She was buried in Elk Creek Baptist Church Cemetery, in Wilkes County, N. C. She had no natural children. She adopted and raised Jobe Triplett.

Bill (William Albert) Proffit went west as a young man to make enough money so he and Mary Lou Walsh could marry. He herded sheep for six  years, saved six hundred dollars, went back to Wilkes County, bought a farm on Elk Creek, married, and raised a large family. He was a leader of Elk Creek community and Elk Baptist church where he was a deacon, superintent of Sunday school, and song leader. He raised cattle, pigs, chickens, and corn and operated a small country store. He farmed with horses or mules until 1950 when he bought a ford 8-N tractor. His brother-in-law, Fred McNeil, said that Bill was well read on the latest farming methods and applied them. They farmed and ran a small country store. After their son Paul, and and his wife, Irmtraud died in 1964, Mary Lou moved to Laruel Springs, N. C. to help their daughter Nettie Proffit Miller raise Paul and Irmtraud's children. After the children grew up, she moved back to her home on Elk Creek and lived there until her death in 1974.

John T. Proffit left his wife and four children to go find a better way to make a living. He left home with six hundred dollars. His wife received one card from him and he was never heard of again. His children tried to find his where abouts when they grew up but were unable to find any leads. It is thought that he was robbed and killed.

Fourth Generation

Children of Robert Lee Proffitt and Martha Alverta McNeil
Glenn Theodore Proffitt (1901-1967) m. Edna Queener (1905-1989)
Benjamin Commodore Proffitt (1902-1907)
Cline Hamilton Proffitt (1904-1980) m. Evelyn Pearl Satterwhite (1901-1971) (died in Fairfax County, Va)
Lola Proffitt (1906-1996) m. Foster M. Davis (Lola was kidnapped in Lumberton, NC and murdered in Georgia)
Oliver McNeil Proffit (1908-1971) m. Ursula Blevins
Hight Moore Proffit (1911) m. Dorthy Ardell Marsh
Wade Wright Proffitt (b & d 1916)
Charles Wright Proffit (1918) m. Annie Irene Shores

------------

Children of Augustus Judson Proffitt and Wilmoth "Willa" Ila McNeil
Harrold Alfred Proffitt (1922-1985) m. Meneta Weborn

------------

Children of George Hamilton Proffitt and Sarah Lou McNeil
Blanche Proffit (1911) m. Harlon G. Orrell
Thomas Jefferson Proffit (1915-1934)
---
A side note of History: A descendant of Rev. John Proffit of Wilkes County, NC came to Maryville Tennessee to live and started the "Proffitt Department Stores". The Corp. Hdqtrs. is still in Maryville, and still controlled by the Proffitt family.  They were (and still are) instrumental in establishing and operating the Blount Memorial Hospital and Blount Community College. This family was instrumental in bringing the Alcoa Aluminum Company to the area, thereby helping to provide many jobs for the local people.

This material was generously contributed by Jay Webb and should not be copied or used without the express written consent of Jay Webb, e-mail address: webb2705@knox.mindspring.com
A First Family of Tennessee - The Webb's

See the book "Four brothers in Gray" in the bookstore at Wilkes Community College, Wilkesboro, North Carolina. Ph# 910-651-8600.
---
Webmaster, Faye Jarvis Moran
faye@fmoran.com