Lowder Family
---
Continued from Lowder Family Page
This Lowder family moved to Utah in 1851 from Nauvoo, Illinois and lived for sometime in Salt Lake (City) and then helped to settle Parowan, Panguitch and Paragonah. They were personally acquainted with the Prophet Joseph Smith. John Lowder (Jesse's son) was a captian in the Black Hawk War and after the war acted as an interpreter for the Indians and white man. He was the first man to pick up a copper nugget in Bingham Co and was told by President Young that " the time had not come to develop those mines." (Quote from article written by John's granddaughter, Eleanor Guymond Bruhn, 1969)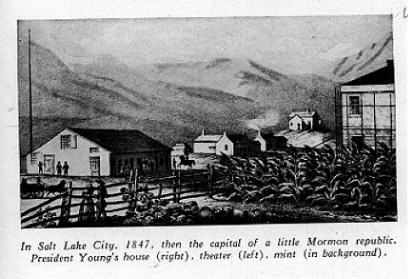 ---
Fourth Generation:

Children of Jesse Lowder and Zilpha Bullard
Lewis Lowder (1815-1815)
Rachel Lowder (1818-1844)
Jonathan (1820-1825)
Richmond Lowder (1822-1891, UT) m. Emily Caroline Norton (1830-1907)
James Lowder (1824-1851) m. Minerva Julia Owen
Mary Lowder (1826)
Catherine Lowder (1830) m. 1) William Creeland Burrows, 2) William Clements Sellwood
Levi/Lewis Lowder (1828-?)
John Lowder (1835-1917) m. Emily Teressa Hodgetts
---
Fifth Generation:

Children of Richmond Lowder and Emily Caroline Norton
Esther Ann Lowder (1852-1939)
Emily Catherine Lowder (1854-1856)
Zilphia Lowder (1856-1856)
Electa Louisa Lowder (1859-1939)
Richmond Carolos Lowder (1861-1942)
Harriet Adelia Lowder (1864-1933)
Laura Marinda Lowder (1866-1888)
Benjamin Franklin Louder (1869-1945) m. Clara Pace

Richmond Lowder and Emily Caroline Norton came west to the Great Salt Lake Valley in 1849 with the family of Harmond Moulton. Richmond was the driver of one of the wagons belonging to this family. It is not known what Emily's status was with the Moulton's during that trip West nor the time when she left her family which stayed in Hancock County, Illinois.

__________

Children of John Lowder and Emily Hodgetts
John Logan Lowder (1861) m 1) Sally Ann Hyatt, 2) Mary Barney, 3) Mary A. Isom
Mary Emma Lowder (1863) m. Abraham Owen Smoot Webb
Zilpha Ann Lowder (1866) m. Marcus Lafayette Guymon
Ida Maria Lowder (1868) m. 1) Moroni Alexander Orton 2) Anthony Paxton, Jr.
Lewis Monroe Lowder (1870) m. Ida Vivian Smith
Jesse Franklin Lowder (1872, Parowan, Iron) m. Mary Alice Bentley
Katherine Amelia (Kate) Lowder (1875) m. Jorgen Andrew Jensen
William Joseph Lowder (1878) m. Minnie Whitney
Edgar Marion Lowder (1882) m. Evelyn Taylor
---
Sixth Generation:

Children of Benjamin Franklin Louder and Clara Pace
Elmer Francis Louder (1893-1976) m. Frances Bunn
Jesse Franklin Louder (1894-1986) m. 1) Drucilla Richardson, 2) Veta Richardson
Emily Leone Louder (1896-1970) m. Walter Prescott
Hattie Laura Louder (1897-1918)
Admiral Sheeley Louder (1899-1964) m. Fanny Nyman
Mary Ett Louder (1900-1974) m. 1) M. Bingham, 2) Austin S. Merrill
Clara Louder (1902-1986) m. Parley Mitchell
James Louis Louder (1904-1983) m. Ruby Mitchell
Zilpha Louder (1907-1946) m. Elroy Harris
Edwin P. Lowder (1910) m. 2) Beulah Vibbert, 2) Laverne Sly
Albert R. Louder (1912) m. Ellen Bernice Gillman
Eva Jane Louder (1918-1973) m. Geraldus (Hud) Yates
---
Sources:

Photo courtesy of Mary Floy Katzman

Personal communications with Maggie Beckstead. Maggie contributed the long-sought-after information of the Bullard family. Maggie's email address is: mmranch@inquo.net

Research efforts of Merna Madden, Sandy, Utah

Personal communications with Sandra Eleanor (Tyler) Duncan. Sandra contributed information on the James Lowder and Minerva Julia Owen line and would like to correspond with anyone interested. Sandra is also the list owner for the Lowder discussion group. Her email address is:purplevw@sl.net.
The LOUDER/LOWDER LETTER is a quarterly newsletter designed to connect any Lowder researcher to others with the same interest. Eleen Johnson Robinson (Evans) publishes this quarterly and you can reach her at eleen@sisna.com. The price for this publication is $20 per year and it is well worth the money spent. Her snail mail address is : Gen-Search, Box 323, Parowan, UT 84761.
The Louder/Lowder Letter, Issue I, April 1996
LDS Film# 383,276
---

Return to Lowder Family Page

Return to List of Family Names

Return to the Jarvis Family Homepage
American Local History Network - Utah