Memories of Ogburn Station
You're invited to share your memories and photos of Ogburn Station

e-mail Faye Jarvis Moran - faye@fmoran.com
---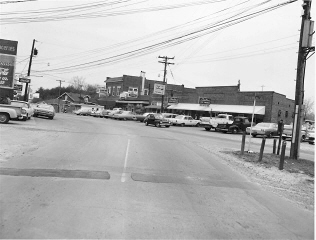 Ogburn Station
Courtesy of Forsyth County Public Library, Photograph Collection
(cannot be downloaded or reproduced in any form)

Other Ogburn Station images AND photos from Mineral Springs and Oak Summit Schools
Continued from page 1
I stumbled onto your Ogburn Memories Page website and boy! what a trip for me. We lived around Ogburn Station most of our lives first, on Oak Summit Rd., then Cox Blvd. behind my grandparents Annie & Richard Tally and near my Aunt Trola and Uncle Dink Styers. Then we moved out on Hwy. 66 to help out with my grandfather Irvin 'I.J.' Grubbs after my grandmother Elizabeth Westmoreland Grubbs passed on. Back to Don Avenue after that and then up the street to Old Walkertown Road where our windows would rattle whenever the train went by! Lived right near that ole bridge and would cross over it often to visit two of my best friends, Darlene and Vikki. Yes, Daddy, Jack Tally, is still living behind Pulliam's on Graystone Drive at 82 yrs. young. He also ran T & C Auto Repair right behind that Esso Station and my Uncle Cecil Caudle (Darla and Don's Dad) was owner. We also remember going to the Dine In Car and watching the planes take off. The food there was great!!! And every Christmas Dad would take us up to O.C.East in Ogburn Station to pick up Momma a present so it would be from 'us", Ricky, and Jackie and myself. I remember the Mike and David Nail living down the street from us even though I was about 12. I have copied this and sent it to Daddy so he can relive some of those all memories. One more thing! Also, Daddy, Jack Tally, was a volunteer fire fighter along with Blake Ferguson. I was honored to have Mary Ferguson as my 1st grade teacher at Oak Summit Elementary. And we all went to Mineral Springs "Junior" High after the high school was moved to North and East Forsyth. -- Robin (Tally) Martin, North Forsyth '72
---
Ogburn Station. If you attended Mineral Springs the area became a part of your life. As a teenager I bought gas from Jack Tally and Cecil Grubbs at the Esso station, ice cream from Pulliams and you took your date to the Dine-In-Car. My first son, Ric, was delivered by Dr. Wiggins and had his first hair cut by Mr. Jordan. I bought a new home on Don Avenue and in 1958 opened The Sport Shop in a building leased from J. C. Caudle next to the Paragon. My brother-in-law, Ronnie Page, was still in school but worked in The Sport Shop. During this time I sponsord a basketball team made up of Jack Chambers and other Mineral Springs players in the City League. I had an arrangement with the Winston-Salem JCs to award player of the game trophy at the Piedmont Bowl. One year it was the kicker Sam Baker, the other was quarterback Eddie Lebaron. Incidently the basketball team won their Division. I closed the shop to become Sales Manager of Sportsman Supply and later hired Mineral Springs guys Jamie Wilkes and Ronnie Page. I used the Gulf Station for the next few years for gas, tires, etc. Bud Young did my cleaning for about 20 years. During this time I ate a bunch of Big Edd hotdogs, and Bar-B-Cues at Pulliams. I have traveled over a big part of this country and never have eaten a sandwich like Big Edd's. Piedmont Bus lines was behind Mr. Caulle's Shopping Ctr. in the beginning. If you played a juke box or pin-ball machine in the area it probably came from "Dink" Styers. From food to flowers Ogburn Station had most everything. -- Joe Gray Marshall, Class of '52.
---
Note: Joe Marshall captured exactly the reasons I wanted to record the Ogburn Station history and our way of life "back then." If you grew up in the area, you know exactly what Joe is talking about. If you grew up in the area, you can walk every step with him. If you didn't grow up in and around Ogburn Station, you probably don't have a clue to what we're trying to do with this web site. Today is a different kind of world, but we can record "that place, that time" for future generations.-- Faye Jarvis Moran
---
Ogburn station was named for my grandfather "Wick" Ogburn. A railroad schedule shows Ogburn as the first stop 4 miles from Winston-Salem in the 1890s. The railroad ran up near the Liberty Street level then. About the time of WW1 the RR was placed in the cut. If you are on Glenn Avenue and look at the bridge you can still see a flat straight line under the bridge. That is where the RR ran before the cut. - Jack Ogburn
---
Did you know that the original name of the Smith Reynolds Airport was Miller Field or Miller Airport? No, I didn't either. The airport was named for A. C. Miller, a man who financed the development and equipment for $17,000 in 1927. It consisted of about 100 acres which ran alongside Walkertown Road. It was a "four way field, consisting of runways of 1600 feet long and more than 400 feet wide, of hard packed sod." Col. Charles Lindbergh arrived on Oct 14, 1927 and the airport was offically opened for business. Sources: Twin City Sentinel newspaper article dated November 22, 1962. -- article provided by Ralph Tuttle.
---
One of the people that was instrumental in building the pond that Jack Chambers mentioned in his post was Ed Dobson that lived next door to me and my family on Vashti Street (no longer there). My family went over there one Sunday to watch them swim and a intoxicated guy picked up my brother Joe (at the time he was only ten years old) and threw him in the pond. Some other guys that were swimming at the time quickley grabbed him and pulled him out. He was OK. The neighborhood that I lived in was completely demolished in 1953 for the airport. It was to the left just as soon as you turn on Lansing Drive off of Liberty Street. This neighborhood had at least eighty homes, a trailer park and a gas station. A lot of children that lived there went to Mineral Springs School. Some of the streets were Roberts, Adams and Vashti. Some of the residents were Moore, Owens, Moser, Ladd, Jackson, Wellborn, Robertson, Plaster, Newsome, Howell, Whistenut, Secrest, Shields, Lancaster, Wilson, Walker, Barr, Hancock, Dobson, Tuttle. -- Ralph Tuttle
---
My family was living on Stowe Street just behind the Stowe home when I started school at Mineral Springs. This was in 1932 and I had to walk all the way to school since there was no bus service in our area. Well, of course, I had to walk right through Ogburn Station to get there and back. I had a lot of trouble with leg cramps and many times I would be in tears when I got home from school. I well remember Pullliam's ice cream place...My Dad, J.R. Worrell worked at the Winston-Salem Post Office, and got off at 12 on Saturdays. He would almost always go to Styers Meat Market and get an arm full of meats for our Sunday dinner and the following week....I mean it was an arm FULL, and was it ever good! I was number 8 of 10 siblings and all but one graduated from Mineral Springs School. J Hugh White was the principle there as long as I went and Mr. Tom Cash was the Superintendent. I had many wonderful teachers, whom I appreciate, and many I kept in touch with for years after I graduated in 1943. --Margaret Worrell Dunn
---
Around 1956 me and my brother, Elton, ran the Gulf station next to John Pulliams BarBQ. During that time, we were in the fire department and answered a lot of daytime calls. Since we were close by, we were handy. At that time Jack Tally ran the Esso station down the street. I graduated from Mineral Springs in 1949 - the first year in the new building. I came from a family of ten and nine of us graduated from there. -- Paul Worrell
---
Around 1956 our band played bluegrass in the parking lot of the shopping center. We played on Saturday nights and people would come to listen to the music and to square dance. Mr. Jennings from the mill would bring his flat-bed truck to the parking lot - we would rope off the parking lot and play music on the truck for people to dance. We would stop at 10.00 before the rough crowd came in. We had lots of fun and fellowship. The band members were: Jim Golden, Herman Higgins, Don Bristow, and Paul Worrell. Lots of fun and we enjoyed it. -- Paul Worrell
---
I was born and raised in Ogburn Station (Town) where I started school in 1948 at Mineral Springs before it became Oak Summit in 1950. My family of four lived in a red shingle house that was behind the hardware store owned by Mr and Mrs. East. I got all my shots in a clinic that was above the drug store. I have a lot of great memories of Ogburn Station. I remember it as a bustling little community and my favorite time of the year was in the winter time with snow on the ground, trains chugging down the railroad track with the black smoke bellowing out into the air and the whistle blowing, then looking towards Winston-Salem and seeing all the smoke coming from the RJR tobacco factories. A man by the name of Gaston Smith played Santa Claus at Christmas sitting out in front of O.C East store and he is the first and last Santa that I have seen that had a big, big chew of tobacco in his mouth. -- Ralph Tuttle.
---
I remember Wilkerson Grocery and Mr. and Mrs Wilkerson, there was a Bobby Wilkerson that drove a 1955/6 Red/White Ford with loud sounding mufflers that you could hear coming a mile away. Could it be the same Bob Wilkerson that posted? -- Ralph TuttleRalph Tuttle
---
President Harry Truman came through Ogburn Station riding on a train. The President was riding on the outside of the caboose and he waved at me personally. How do I know he waved at me? I was the only one standing there on the bank of the railroad between the hardware store and Sprinkle Gas Station. I don't remember the year. -- Ralph Tuttle. (Note: President Harry S. Truman addressed the people gathered for the groundbreaking ceremony at Wake Forest College on October 15, 1951. -- Harry S. Truman was the last President to serve office who did not have a college degree.) -- Faye Jarvis Moran.
---
We traveled out Walkertown Rd a lot to North Hampton Drive to visit my Mom's sister, and her daughter was Mary Ellen Gardner (my cousin, of course). Uncle Richard built Ellen a playhouse behind their house and we used to beg to sleep out in it (we were just little girls, like 4-6 yrs old, I guess.) He would snicker and carry us out there, knowing full well that, as soon as we heard a twig snap or a dog bark, we'd be squealing to come back into the house, ha! So he kept his bedroom window open and it wouldn't be 10-15 mins. before he'd have to come back after us, ha! It was nice - had carpet and heat and lights and a little kitchen and beds - I thought it was the greatest thing ever! -- Bonnie Martin Godsey
---
Doctor Wiggins was the only Doctor in town. -- Ralph Tuttle
---
Believe this or not - my first memory of Ogburn Station was going by the hardware store in a driverless car. My sister Dale who was sitting in the front seat had brain failure, opened the car door and just fell out. My Mother slowed down the car but didn't completely stop, just jumped out to save Dale, leaving me in the back seat with my hands over my ears. The car rolled to a stop in front of Fleta's pool hall and fortunately it wasn't on top of Dale! Dale was fine, I guess - sometimes I've wondered! - Faye Jarvis Moran
---
My brother and I had a paper route in Ogburn Station. We started on Cayuga St and went to Mount Pleasant Church. I remember the two prettiest girls on Cayuga St were Patricia Dodson I think I switched back and forth from having a crush on one or the other from week to week. Also remember Deco Smith. I thought he had a cool truck. - Mike Nail
---
Mike Nail is right, my sister Patricia Dodson was the prettiest girl on Cayuga Street and Ogburn Station. - Jerry Dodson
---
I was born in Winston-Salem at my grandparents house (McDaniels) but moved into an apartment near the airport and then moved into the Ogburn Station area in 1934. We moved to Cayuga Street in about 1939. I had always been told that when my grandfather built his house and store he bought other property and built rental houses, Cayuga Street was called Dodson Alley. - Jerry Dodson
---
You might remember there was a Williams Grocery Store on Old Rural Hall Road. It was owned by my Granddady Williams until he retired and then Uncle Fred Williams ran it until the early 70's. The supermarkets put those small stores out of business. - Thomas G. Petree
Return to Memories of Ogburn Station
If you have reached us from Ancestry.com or another cached site, please go to http://www.fmoran.com/ogburnst.html to see the latest version of this page.
We welcome comments and inquiries. Please write me.
©, 2007, 2008
Faye Jarvis Moran
faye@fmoran.com