Home for History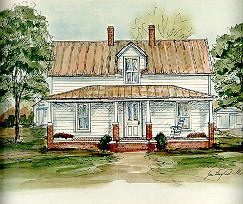 Rash Family of Wilkes County, North Carolina
The three sons and one daughter of Joseph Rash, Sr. and his first wife have been identified on the basis of circumstantial evidence. It is possible that there were other daughters.
Joseph Rash Sr. was in Fredrickville Parish, Louisa (Albemarle) County, VA by 1775. The name of his first wife and the mother of his children is not known. His second marriage was to Barbara Holcomb, who had two illegitimate sons, Grymes Holcomb and Thomas Holcomb, born 15 April 1754.
There was also Daniel Rash who married Ruth Muncy in the same area.
---
First Generation:

Children of Joseph Rash, Sr and unknown wife
Joseph Rash, Jr. (abt.1746-1812) m. Mildred (Milly) Isbell (1750-1829), d/o James Isbell and Frances Livingston
Thomas Rash
William Rash (abt.1748) m Elizabeth Warren, d/o Samuel Warren
Sarah Rash (abt.1750) m. Robert Sheppard
---
Second Generation:

Children of Joseph Rash, Jr. and Mildred Isbell
William Rash (abt.1769-1868) m. 1) Celia (?) Laxton, d/o Thomas Laxton, 2) Elizabeth Ditty
Nancy Rash (abt.1772-1800/1802) m. John Barlow Jr. (1768-1857)
James Rash (abt.1775)
Perry Rash (abt.1780) m. Nancy Cash (abt.1784-?), d/o William Cash (1752-1837) (m. 1804, Wilkes Co., NC)
Elizabeth Rash (abt.1784-aft. 1818) m. 1) Abraham Kilby (1788-1816); 2) William Fletcher
Mary Rash (1786-1880) m. William Tyre, Jr.
Thomas Rash (1791-bef. 1860) m. Frances Kilby (1790-after 1860), d/o William Kilby and Frances Eddins

James Rash's name appears twice on the 1800 Wilkes Co., NC; one is between 16 and 26 years of age and the other is between 27 and 45.
---
Third Generation:

Children of William Rash and Celia Laxton
Sarah Rash m. William Rash (her first cousin) moved to Missouri
Elizabeth Rash m. Frances Terry of Jackson Co. AL
Celia Rash m. 1) (?) Allen, 2) Samuel McCrary of Jackson Co AL
William Rash Jr. was living in AL in 1868
Leroy (Levi?) Rash (moved to Missouri)
Laxton Rash m. Elvira McCrary, d/o Samuel McCrary and Betty Allen
Mary Rash m. Almon McCrary (brother of Elmira McCrary)
-------------

Children of Elizabeth Rash and Abraham Kilby Esq.
James Linville Kilby (abt.1802-?) m. Frances Elizabeth Vannoy
Sarah Kilby (abt.1804-?) m. Thomas Barlow (her first cousin)
William Haynes Kilby (abt. 1806-?) m. Fanny Rash (his first cousin)
Lucinda Kilby (abt.1808-?)
Frances Kilby (1811-?) m. John Dancy
Matilda Kilby (abt.1813-?) Henry Barlow (half-brother of Thomas Barlow)
Abraham Kilby, Jr. (1816-1895) m. 1) Naomi Serena Dancy (1817-?); 2) Susan Jenkins

------------

Children of Mary Rash before her marriage to William Trye
Joseph (Haden/Harden) Rash (1808-aft.1860) m. Mary (Polly) Church (abt. 1808-1850)
Fanny Rash (1810-?) m. William Haynes Kilby
David Peyton Rash (1814-?) m. Nancy Livingston (1815-1857/60)

------------

Children of Mary Rash and William Trye
Nancy Camberly Tyre (1819-aft. 1830)
William Burton Tyre (1823-?) m. Mary Ann Haynes
Thomas Trye (1825-aft. 1860)

------------

Children of Thomas Rash and Frances Kilby
Cynthia L. Rash (1810-1877) m. Paschal Buckner (m. 1830, Wilkes; died in Pike Co., MO)
John Warren Rash (1813-1889) m. Velisha Bullis, d/o Benjamin Bullis and wife Martha/Matha
William Kilby Rash (abt.1818-aft.1860) m. Margaret M. Kilby (1823-aft.1860)
Mary B. Rash (1823-aft.1860)
Frances Eddins Rash (1826-after 1860) m. John Wesley Nichols (1827-aft.1860)
son (ca 1826) listed in 1840 census
Sarah Ann Rash (1829-aft.1860) did not marry
Elizabeth M. Rash (abt.1831-?) m. James E. Crysel, a widower
---
Fourth Generation

Children of David Peyton Rash and Nancy Livingston
Joseph Rash (1836)
Elizabeth Rash (abt.1837)
Peyton Rash (abt.1839)
Mary Rash (1841)
Eliza or Cyntha Rash (abt.1843)
Thomas J. Rash (abt.1845)
Robert Linsey Rash (abt.1847)
William M. Rash (abt.1849)
Fanna A. Rash (abt.1850)
Martha Rash (abt.1853)
Nancy M. Rash (abt.1855)
-------------

Children of Joseph (Haden/Harden) and Mary (Polly) Church
Matilda Rash (abt. 1825)
Malinda Rash (abt. 1832)
Calvin Rash (abt. 1837)
Elizabeth Rash (abt. 1843)
Parmelia Rash (abt. 1846)

------------

Fourth Generation:

Children of John Warren Rash and Velisha Bullis
Joseph Stephen Rash (1838-1877) m. Lydia Matilda Bumgarner
J. Zeno Melvin Rash (1840-1862) did not return from Civil War
Levi Perry Rash (1842) died during Civil War Sibba Carolina Rash (1844-1932) m. Cleveland McNeil
John Clark Rash (1846-1935) m. Mary Elizabeth McNeil
Sarah Ann Rash (1848-1901) m. James Levi Faw
Frances M. (Fannie) Rash (1849-1932) m. John Andrew Faw
Mary Elizabeth (Betty) Rash (1852-1926) m. Thomas Harvey Faw
Thomas Benjamin Rash (1854-1891) m. Mary Ann Faw
Nancy V. Rash (1856-?) m. Chapley Wellborn Minton
---
Fifth Generation

Children of Thomas Benjamin Rash and Mary Ann Faw
James Warren Rash (1880)
Hardin Rash
Myrtle Caroline Rash (1885) m. James Monroe Sullivan
---
Sources:

Bunches of Barlows, by John Hawkins and Elizabeth H. Michaels

Personal communications with Greg Livingston
---
Webmaster, Faye Jarvis Moran
faye@fmoran.com