Home for History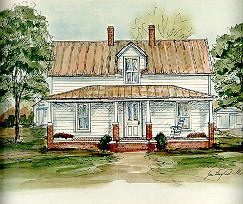 Livingston Family of Wilkes and Caldwell Counties
The Livingstons are of Scottish origin and take their name from the parish of Livingstone in the shire of West Lothran, west of Edinburgh. A Saxon named Leving came to Scotland about 1100 and received a grant of these lands which was named "Leving's tien (house)."
The immigrant to Virginia was John Livingston, who settled by 1753 in Stratton-Major Parish, New Kent (now King and Queen County), and became a large landowner. In succeeding generations, John was the favorite name in the family for five or six successive generations. The Orrills were also a prominent family in King and Queen County. In early records in VA and in Wilkes County, the name is often spelled Levingston, the way it was pronounced.
First Generation
John Orrel Livingston was born abt. 1748, probably in Virginia and was in Wilkes County, NC by 1779. He died abt. 1825 in Caldwell County NC and was married to Lucy Martin.
William Todd Livingston bought land in Louisa County VA in 1752 from John Vass Jr of Essex County. He sold this and other land in 1757. He was married to Sarah Ware in VA and lived on Mulberry Creek in (Wilkes) County, NC. Both John Orrel Livingston and William Todd Livingston lived in the same area as the Carltons, Barlows, and Lands, but the relationship between the two is not known.
---
Second Generation:

Children of John Orrell Livingston and Lucy Martin
Catherine Livingston (1778-1837) m. Thomas Carlton
John Livingston (abt. 1780-aft. 1850) m. Castity Carrell (1801)
Nancy Livingston (abt. 1783-aft. 1860) m. William R. Padgett (1785, VA - aft. 1860)
Frances Livingston
Edith Livingston (abt. 1790) m. James Land, s/o Jonathan Land and Elizabeth Isbell
Martin Livingston (abt. 1793-1854) m. Elizabeth Barlow (abt. 1789)
Mildred Livingston m. unknown Pasely (Paisley)
Orrell Livingston (abt.1800) m. Mary "Polley" Dula (abt. 1805)
Martin Livingston (abt. 1793-1854) m. Elizabeth Barlow (abt. 1789)
Mildred Livingston m. unknown Pasely (Paisley)
Orrel Livingston (abt. 1800)

John Livingston's land was situated on the middle fork of Beaver Creek joining John Cook and John William Crostwait.

------------

Children of William Todd Livingston and Sarah Ware
John Livingston m. Rachel Freeman (?-1845)
William Livingston m. Isabel Nelson (nothing else known)
Cartherine Livingston m. William Wilson
Peter Livingston (1755-1815) m. Elizabeth Head
Susanna Livingston m. William Head
Samuel Livingston (1757-1834) m. Phoebe Head
Elizabeth Livingston (abt. 1758) m. Thomas Elliott
Henry Livingston (1764-1834) m. Mary Faris
---
Third Generation:

Children of John Livingston and Castity Carrell
Cornelius Livingston (1808) m. Nancy Brown, d/o Eli Brown and Elizabeth Brookshire

------------

Children of Orrell Livingston and Mary "Polley" Dula
Larken Jones Livingston m. Lusanna Lewis, d/o John Lewis and Ruth St. John

------------

Children of Martin Livinigston and Elizabeth Barlow
John Livingston (1812-1865) m. Nancy Ferguson
Nancy Livingston (1815-1857/1860) m. David Peyton Rash
J. Madison Livingston (1817-1895) m. 1) Nancy M. Lee (d/o Jordan Lee), 2) Margaret Selena Bradburn
(d/o Isaac Elledge Bradburn and Eleanor Starnes
Frances Livingston (1819) m.
Mary Livingston (1821) m. Ambrose Knight
Thomas Earl Livingston (1823-1900) m. 1) Sarah Keller, 2) Avey Elizabeth Pennell
Lucy Livingston (1826-1905) m. George Nero White
William Livingston (1828)
Elizabeth Livingston (1830) m. Harris Mooney

-------------

Children of Peter Livingston and Elizabeth Head
Nathan Livingston (1792-1865)
---
Fourth Generation

Children of David Peyton Rash and Nancy Livingston
Joseph Rash (1836)
Elizabeth Rash (abt. 1837)
Peyton Rash (abt. 1839)
Mary Rash (1841)
Eliza or Cyntha Rash (abt. 1843)
Thomas J. Rash (abt. 1845)
Robert Linsey Rash (abt. 1847)
William M. Rash (abt. 1849)
Fanna A. Rash (abt. 1850)
Martha Rash (abt. 1853)
Nancy M. Rash (abt. 1855)
------------

Children of Cornelius Livingston and Nancy Brown
George W. Livingston (1835) m. Elizabeth M. Carlton

------------

Children of John Livingston and Nancy Ferguson
Thomas Livingston (1843-1901) m. Orilla Andrews (1844-1925)

------------

Children of J. Madison Livingston and Nancy Lee
Sarah Ann Livingston m. George W. Andrews
Jordan Livingston m. Sarah (Sally) Land (a cousin??)
Polly Lucinda Livingston (did not marry)
Elvira Livingston
James M. Livingston (1852) m. Miram Elizabeth Johnson (1856-1927)
Nancy Louisa Livingston (1877) m. J. Wesley Pope

------------

Children of J. Madison Livingston and 2) Margaret Selena Bradburn
Julius William Newton Butler Livingston m. Victoria Pennell
George Lawrence Columbus Livingston (1873-1959) m. Delia Ann Brookshire (1871-1959)

------------

Children of Thomas Earl Livingston and 1) Sarah Keller
Mary Livingston (abt. 1857) m. Milton Hatton
William J. Livingston (abt. 1861)

------------

Children of Thomas Earl Livingston and 2) Avey Elizabeth Pennell
Robert Lee Livingston (1866)
Sarah L. E. Livingston (abt. 1867)
Thomas N. Livingston (1869)
John F. M. Livingston (1871)
Laura E. Livingston (1873)
Wade S. Livingston (abt. 1876) m.Orpha Knight
Worth H. Livingston

------------

Children of Lucy Livingston and George Nero White
Nannie White m. Ralph H. Winkler (1892)

------------

Children of Nathan Livingston
William H. Livingston (1828-1884) m. Elizabeth Cooper
---
Fifth Generation:

Children of Jordan Livingston and Sarah (Sally) Land
Mary Livingston (18651945) m. Calvin McGee (1865-1916)

------------

Children of Nancy Louisa (Lou) Livingston and J. Wesley Pope
Alice Pope
Ollie Pope m. Helton

------------

Children of Thomas Livingston and Orilla Andrews
John Bunyan Livingston (1881-1939) m. Claire Rosetta Jarvis, d/o Wm. F. Jarvis and Martha Ann Barlow
Dessie Livingston (1886-1973) m. Johnson
Fred Livingston (1879-1921)

------------

Children of James M. Livingston and Miram Elizabeth Johnson
William Folkie Livingston (1876-1892)
Thomas Rosel Livingston (1877-1929) m. Ida Earp (1886-?)
Nora Ida Livingston (1878) m. Tom Andrews
Roby Columbus (Lum) Livingston (1882-1892)
Jesy M. Livingston (1880-1892)
John C. (Johnny) Livingston (1884-1885)
Chester Steele Livingston (1886-1929) m. Frances Wike
Wade Livingston (1889-1965) m. Orpha Knight (1897-?)
Charlie S. Livingston (1892) m. Vickie Laxton
Callie Ola Livingston (1894-1978) m. Partee Vance Land (1894-1968)
Dovie Eva Livingston (1896-1897)
Clyde Newland Livingston (1902-1963) m. Dora Alice Taylor (1902-?)
Minnie Belle Livingston (1898) (died as an infant)

------------

Children of Julius William Newton Butler Livingston and Victoria Pennell
Elizabeth (Lizzie) Livingston m. Vilas Walsh
Roy Livingston

------------

Children of William H. Livingston and Elizabeth Cooper
Rachel Alice Livingston (1855-1944) m. William Jefferson Gross
---
Sixth Generation:

Children of John Bunyan Livingston and Claire Rosetta Jarvis
Kate Livingston (1906-1968) m. John Otis Smith
Stanley Livingston (1907) m. Faye Barlow
Cline Richard Livingston (1910-1988) m. Pansy Grubb
William Malcolm Livingston (1911) m. Ruby Toms
Anthony Wayne Livingston (1913-1996) m. Virginia Brinkerhoff
Glenn Madison Livingston (1917) m. Rose Davidson
Herbert Pershing Livingston (1918-1984) m. Annie Lois Smith
Annie Livingston (1922-1983) m. Dewitt Bowman
Hester Stacy (Buck) Livingston (1924-1967) m. Sadie Lezeznski
Ina Marion Livingston (1928) m. Samuel R. Andrew
---
Contact:

Susan Williams is researching the Nathan Livingston line. Susan e-mail address is: Susan.Williams@rci.com
Return to Wilkes County Family Pages
Faye Jarvis Moran, Webmaster
faye@fmoran.com