The Jarvis Family and Other Relatives
If you have reached us from Ancestry.com or another cached site,
please go to http://www.fmoran.com/hanes.html to see the latest version of this page.
We welcome comments and inquiries. Please write us.
Hanes Family
---
For an excellent treatment of this family, see the book by Jo White Linn, People Named Hanes.

First Generation
Marcus Hoehns was born near Zweibruecken in the Palatinate, the son of Johann Philip and Susanna Heintz, and immigrated with his family on the Glasgow in 1738. At least two brothers and probably several sisters settled in the York PA area. Marcus married Anna Elisabeth Koerber in 1749 at York PA, where he joined the Moravian Church in 1752. He came with his wife and children to NC in May, 1774, settling in the Friedberg community.
---
Second Generation
Children of Marcus Hoehns and Anna Elisabeth Koerber
Anna Eva Hoehns (1749-1773) m. Johann Jacob Beroth (1740-1801)
Johannes (John) Hoehns (1750-1822) m. Anna Maria Schor (1756-1825)
Phillip Hoehns (1752-1820) m. Johanna Salome Frey (1760-1845)
Catharina Hoehns (1754-1818) m. Heinrich Hauser (1754-1821)
Christina Hoehns (1756-1818) m. George Friedrich Lagenauer (1756-1834)
Johanna Hoehns (1761-1762)
Rosina Hoehns (1758-1825) m. Johannes Zimmerman (1760-1807)
Anna Maria Hoehns (1763-1766)
Christian Heinrich Hoehns (1766-1843) m. Anna Maria Frey (1773-1843)
Martin Hoehns (1769-1831) m. Susannah Frey (1773-1834)
---
Third Generation
Children of John Hoehns and Anna Maria Schor
Johannes Hanes (1777-1781)
Phillip Hanes (1778-1827) [date corrected 1/2/03] m. Susanna Frey (1784-1845)
Elizabeth Hanes (1781-1851) m. David Hege (1777-1815)
Anna Maria Hanes (1783- abt. 1865/1870) m. Matthew Ketner (1780-1842)
Sarah Hanes (1785-?) may have died in infancy
Anna Catharina (Nancy) Hanes (1786-?) m. Christian Rippel (1784-1869)
Christian Hanes (1790-?)
*Beatrice Hanes (1794-?)
Rosina Hanes (abt. 1796-1851) m. Martin Rothrock (1787-1864)

* This is an unusual name for a family of German origin in this time and place. Could it possibly be Beata, the designation used for a female infant who died unbaptized?

----------

Children of Philip Hoehns and Johanna Salome Frey
*John Hanes (1779-1822) m. 1) Elizabeth Blake (abt. 1781-1804); 2) Elizabeth Clayton (1783-1818). Who were her parents?
George Hanes (1781-1851) m. Anna Johnson
Joseph Hanes (1784-1847) m. 1) Catherine Sehner (abt.1784-1818); 2) Sallie March,
3) Mary (Pollie) Snow (1800-aft.1850); lived Davie Co. NC
Jacob Hanes (1786-1821); lived Davie Co. NC
Michael Hanes (1789-bef. June 1853) m. Sarah "Sallie" Smith (1797-1835), d/o Arthur Smith and Sarah Dickerson. After her death he moved to Tennessee.
(after Sarah's death, did Michael Hanes marry Nancy S. Buie/Booe in 1837?)
Elizabeth Hanes (1793-1796)
Rebecca Hanes (1793-1854) m. Nathaniel Schober (1784-1818)
Martin Hanes (1795-1800)
Anna Hanes (1799-1869) m. Emanuel Schober (1789-1846)
Mary Hanes (1802-1840) m. William Clemmons (1803-1832)
Maria Eva Hanes (1803-1804)

*Previously we listed Elizabeth Clayton's birthdate as 1796. We now believe that she is the Elizabeth Hanes buried at Mt. Pleasant Methodist in Clemmons. John Hanes and their infant daughter Julia Ann Elizabeth are buried there also, as is John's brother George Hanes.

----------

Children of Christian Heinrich Hoehns and Anna Maria Frey
Johannes Hanes (1796-1881) m. Sarah Eller (m. July, 1820)
George Hanes (1799-?) m. Sally Crouch (m. July, 1820)
unnamed infant (b. & d. 1804)
Marcus Hanes (?-1824)
Elisabeth Hanes (1808-1882) m. Isaac Robeson (b. 1803)
Maria Catherine Hanes (1811-?) m. Jacob Sain (1801, NC - 1881, IN)
*Anna Maria Hanes (1814?)

*Previously we listed this Anna Maria as the wife of Rev. David Wesner. He appears to be the husband of a different Anna Maria Hanes, daughter of Philip Hanes and Susanna Frey.

----------

Children of Martin Hoehns and Susanna Frey
John Hanes (1793-1803)
Thomas Hanes (1796-1872) m. Maria Faw (1800-bef.1850) (m. 1823)
George Hanes (1799-1828) [birthdate corrected 1/3/03] m. Nancy Faw (m. 1826)
Charles Lewis Hanes (1810-1843) m. 1) *Maria Carolina Rominger (1811-1832); 2) Sarah Ann Phillips (1818-1848)

Deed Record Vol, 3 p. 42 Davidson County, Lexington, North Carolina -- This indenture made the 24th day of January in the year of our Lord 1818 between Jarvis of the county of Stokes and state of North Carolina of the one part and Martin Hanes of the county of Rowan and the state aforesaid of the other part witnesseth that for in consideration of the sum of $50 good money of this state to him in hand paid by the said Martin Hanes the receipt whereof he does hereby acknowledge and therewith fully content and satisfied and he the said James Jarvis, does bargain sell grant and make over in fee simple unto the said Martin Hanes his executors and assigns a certain piece of land situated and lying in the county of Rowan and state aforesaid on the waters of Muddy Creek beginning at Samuil Peak's line and running thence west to Zadock Jarvis's line thence south to Lewis Mullican's thence east to Richard Ellis's line from there thence north to the beginning containing by cimputation 50 acres be the same more or less....

(Susanna's Will was probated August, 1834 in Davidson County, NC, 1:247. She mentions her sons, Thomas and Charles L. Haines. Charles received "all my kitchen furniture, the cupboard in the house (the furniture excepted), the clock and case, two pair of gears, 2 shovel plows and all my stock and cattle. Son Thomas Haines my fall leaf table. Property not disposed of is to be divided between my sons Thomas Haines and Charles L. Haines." Exec: Son, Chas. L. Haines. Wit: David Douthit and Eliz. Rominger.)

*The Forsyth County Cemetery Records book lists her as Martha C. Hanes. Moravian records are consistent that her name was Maria Carolina.
---
Fourth Generation
Children of Philip Hanes and Susanna Frey
Christian Hanes (1806-1810)
Jonathan Hanes (1808-?)
David Hanes (1810-1874) m. 1) Sarah Fishel (abt. 1813-1862), 2) Nancy Rippel
Susanna Hanes (1812-?)
Anna Maria Hanes (1817-1890) m. David Wesner/Weisner (1811-1877), s/o Andreas Wesner or Weisner & Catharina Fisher
Marcus Hanes (abt. 1826-aft. 1860) m. Nancy Burk (abt. 1822-aft. 1860)
Solomon Hanes (abt. 1821-bef. 1860) m. Catherine (abt. 1826-aft. 1860) was her surname Jacobs?
Catherine Hanes (1821-?)
Philip Hanes (1824-?)

----------

Children of John Hanes and 1) Elizabeth Blake
Elizabeth Hanes (1804-?)

Children of John Hanes and 2) Elizabeth Clayton
Julia Ann Elisabeth Hanes (b. & d. 1818)

----------

Children of Joseph Hanes and 1) Catherine Sehner
Alexander "Sandy" Martin Hanes (1809-1861) m. Jane March (1812-1897)
Spencer Joseph (or Jonathan?) Hanes (abt. 1811-1854) George Nelson Hanes (abt.1813-1854) (did not marry)

Children of Joseph Hanes and 3) Mary A. (Pollie) Snow
Lewis Clark Hanes (1827-1905) m. 1) Louise Virginia Thompson (1831-1859), d/o James H. Thompson, 2) Lenora Humphreys
Emma Amanda Hanes (1830-1854?) m. Dr. William Reese Sharpe (1822-1877), s/o David Sharp and Mary Ann Brandon
John Henry Hanes (1838-1915) m. Louisa Clouse (1846-1902)
Sgt. William Preston Hanes (1840-aft. 1880) (served during Civil War) m. Sarah E. Gibbs (1836-1881), d/o Elisha Gibbs and Ellen/Eleanor Gaither, widow of Col. Joseph B. Jones (1826-1960)

Living with this family in 1850, Davie County, NC are: Rebecca Veach, 54; Junius Veach, 19; John Veach, 13; Martha C. Stype, 23 (born in Davidson Co.); William R. Sharp, 26 (physician, born in Iredell; he will marry Emma Hanes in November 1851) and James H. Tatum 26 (school teacher, born in Guilford Co., NC).

----------

Children of Michael Hanes and Sarah "Sallie" Smith (birth order uncertain)
*Arthur S. Hanes (1815-1834)
William B. Hanes
Martin L. Hanes
John W. Hanes (is this the John Hanes that married Eliza Jane Shoaf, Davidson Co., NC, 1850?)
Mary A. Hanes
Hannah A. Hanes
*Charles W. Hanes (1830-1834)
David C. Hanes

After the death of his wife, Michael Hanes moved to Tennessee in 1836.

*guessed from cemetery records - can anyone confirm these are their children?

By virture of a deed of Trust executed to me by Michael Hanes, of Rowan County, for purposes therein expressed, I shall proceed to sell to the highest bidder, on Wednesday 21st day of January, at the dwelling house of Michael Hanes, the following property, to wit: One valuable tract of Land, containing five hundred and fifty acres, more or less, lying in Rowan County, on the Yadkin River, adjoining George Hanes, J. Sparks, Samuel Jones, &c. Likewise, his undivided interest, being one third of a Five Hundred and forty acre Tract lying in Rowan county, on the Yadkin river, late the property of Samuel Jones, adjoining land above mentioned. Also, an undivided interest in a Tract of Land, known by the name of Hertol's Place, adjoining the lands of Haynes Morgan, in Rowan County, Twelve negroes, men, women and children, all very likely. Eight Horses, stock of Cattle and Hogs. Farming Utensils, stock of Cattle and Hogs; One Still and Tubs; Household and Kitchen Furniture of every description. The sale to commence between the hours of 12 and 2, on the above mentioned day and continue from day to day until all is sold. Terms made known on the day of sale. January 2, 1829. John C. Blum, Trustee. The Weekly Gleaner, 1829

------------

Children of Johannes Hanes and Sarah Eller
George Hanes
Emeline Hanes m. Samuel Rose
Joseph Hanes

------------

Children of George Hanes and Sally Crouch
Mary Evaline Hanes (1821-?)
Anne Cammeline Hanes (1823-?)

Children of Thomas Hanes and Maria Faw
Susan Hanes (1825-1896) m. Bryan Alexander Jarvis (1829-1864)
Col. Lewis Clark Hanes (1826-1882) m. Mary Caroline Eccles (1828-1901)
Pvt. Jacob Hanes (1828-1863) (died in Civil War) m. Elizabeth L. Mock (1824-1890)
Mary (Polly) Hanes (1830-?) m. John Hege (widower) (no children)

Colonel Lewis Hanes - "evinced a great fondness for literary studies; in 1860 he actively engaged in politics, and in that year he was elected to the lower house of the legislature. In 1863 and 1864 appeared the famous Davidson Letters, which at once placed him in the front rank of political writers. In 1864 he was again elected to the legislature, in 1864 he was private secretary to Gov. Holden, and inthe fall of the year he was elected to the U. S. Congress. In 1866 he established the Old North State, which he conducted till 1871, in which appeared his ablest productions. Since that time he had been engaged in editorial work on different papers of the state. In 1880 he was elected to the present senate of North Carolina, and also as one of the trustees of the State University at Chapel Hill." People's Press, 1882. (Lewis Hanes was one of the writers of the letters to Nathan Jarvis.)

Note: Christopher Watford's book The Civil War Roster of Davidson County makes Mary Eccles the first wife of the other Lewis Clark Hanes, son of Joseph Hanes and Mary Snow. Since Mary Eccles Hanes appears to have lived to 1901, we think this is incorrect.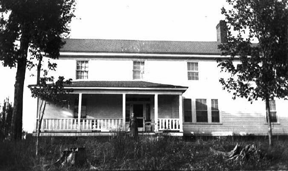 Shutt/Hanes Home
Legend is that this house was built by the Dunkers as a church. The house was the residence of Christian Schott/Shutt and family until around 1854 when they moved to Davie County. At that time Lewis Hanes bought the house and by 1857 had hired Abraham Faw to built an addition as seen here (see: June 1, 1856 Jacob Hanes letter & Apr. 28, 1858 Lewis Hanes letter in the Nathan Jarvis letters). This 1920 picture shows Laura Hanes on the porch step. She was a daughter of Edwin Hanes, who was 1st cousin to Lewis Hanes.
----------
Children of George Hanes and Nancy Faw
Edwin Hanes (1827-1883) m. Ruth Elizabeth Ann Davis (1828-1907), d/o Joel Davis of Davidson County
Nancy Hanes (1829-1899?) m. Traugott Spaugh (1825-1891)
Page 193. 22 Sept. 1828. Will of George Hanes. Dec. Term. 1828. Wife Nancy Hanes, plantation where now live, 41 1/2 acres, etc. Also what her father gave her when married. Eldest son Edwin, plantation at decease of wife. Mentions when children become of age but names only Edwin. Executors: Brothers Thomas and Charles Lewis Hanes. Witnesses: Jacob Frey and David Douthit. Signed: George (X) Hanes.
------------
Children of Charles Lewis Hanes and 1) Martha Carolina Rominger
Augustine Hanes (1832-1921) m. Alice Bratton (1843-1911), d/o Ephraim Bratton (1800-1863) and Rachel Bratton (1816-1887)
(living with his Uncle Thomas in 1850). Some family records give this name as Brittain rather than Bratton.
Children of Charles Lewis Hanes and 2) Sarah Ann Phillips
Uriah Pettis Hanes (1836-1843)
George Francis Hanes (1838-1844)
Pvt. Henry Harrison Hanes (1841-1923) m. 1) Nancy Williams (1834-1877), d/o John Williams and Beulah Etchison; 2) Nancy E. (Beauchamp) Foster
John Phillip Hanes (1843-1919) m. Hester Ann Young (1843-1925), d/o Joshua Young and Mary Hodges
In 1850 Harrison and John Hanes, ages 10 and 6, are living in Davie County, NC with the Enos James family. Enos is 44 years of age and Nancy (his wife?) is 50. After the death of Charles Lewis Hanes his widow, Sarah Ann, married second Nelson Daniels in 1846. They did not have children.
---
Fifth Generation
Children of David Hanes and Sarah Fishel
Jonathan Hanes (1833-1900) m. Susanna Leatherman (1831-1914)
Charlotte Hanes (1835) m. Christian Hege (1835-aft. 1880)
Christian Hanes (abt.1837) m. Barbara Ellen Temples
Susanna Hanes (abt. 1839)
Nancy Elizabeth Hanes (1847-1916) m. George Madison Crotts
Franklin Hanes (abt. 1850-1888) m. Catherine A. Hill
Williard Hanes (1851-1928) m. Louisa James (moved to Texas)
Lenora "Lemmie" Hanes (1852-1928) m. Lorenzo Weaver (moved to Texas

----------

Children of Solomon Hanes and Catherine
Mary A. Hanes (abt. 1835-bef. 1874) m. 1) ____ Berry, 2) Levi Spach (1817-1876)
Philip Hanes (ab. 1837-?) Elizabeth Hanes (abt. 1838-aft. 1860)
Sarah Ann Hanes (abt. 1840-aft. 1860)
Solomon Hanes (abt. 1845-aft. 1860)
John Hanes (abt. 1847-?)

[this family revised 9/23/07] ----------

Children of Marcus Hanes and Nancy Burk
George Hanes (abt. 1848-aft. 1860)
John Hanes (abt. 1850-aft. 1860)
Henry J. Hanes (abt. 1852-aft. 1860)
Cicero Hanes (abt. 1854-aft. 1860)
Junius Hanes (abt. 1857-aft. 1860)

Does anyone know what happened to this Hanes family after 1860? ----------

Children of Alexander Martin Hanes and Jane March
Paulina Hanes (b. & d. 1834)
Capt. Spencer Joseph Hanes (1837-1879) [birthdate corrected 1/28/04] m. Mary Jane Clement (1833-1909)
d/o Godfrey Clement and Elizabeth Brown
Mary Margaret Hanes (1838-1885) m. Henry Xenophon Rudolph Dwire
Corporal Jacob S. (H.?) Hanes (1840-1864) (died during Civil War, Spotsylvania VA)
William Hinkle Hanes (1842-1844)
Pvt. George A. Hanes (1844-1864) (died during Civil War)
*Pvt. Pleasant Henderson Hanes (1845-1925) m. Mary Lizora Fortune (1825-1925), d/o Charles Volney Fortune and Mary Margarette March, born in Texas, sent back to NC to school after her parents died
Catherine Elizabeth Hanes (1848-1914) did not marry
*John Wesley Hanes (1850-1903) m. Anna Hodgin (1861-1947), d/o Alexander S. Hodgin and Lucy Moir
Phillip Hanes (1851 or 1852 -1903) m. Sallie Clement Booe (1857-1927), d/o Alexander Martin Booe and Sarah Ann Clement
Benjamin Franklin Hanes (1853-1895) m. Stella March Williams, d/o Francis Rush Williams and Mary Frances March

* Pleasant H. Hanes established the Hanes Knitting Company to manufacturer men's underwear. In 1965 the knitting company and the hosiery mill merged to form Hanes Corporation.

*John Wesley Hanes established Shamrock Mills in Winston Salem, NC in 1901 to manufacture men's socks. In 1914 the name was changed to Hanes Hosiery Mills Company.

Southern Historical Collection, Manuscripts Department, Library of the University of NC at Chapel Hill, #4045, Catherine E. Hanes Papers. Contains 68 pages of personal letters to Catherine E. Hanes, Davie County, NC from her brother Jacob Hanes who was with the 4th NC Regiment from 1862-1864.

----------

Children of John Henry Hanes and Louisa Clouse
Dr. John Lewis Hanes (1879-1940) m. Pescud

--------------

Children of Lewis Clark Hanes and Louise Virginia Thompson
Charles Hanes (abt. 1854-aft. 1880) m. Florence
James Hanes (abt. 1857-?)
David T. Hanes (b. & d. June 1859; his mother died about three weeks later)

Children of Lewis Clark Hanes and Lenora Humphreys
Mary (Mamie) Hanes (abt. 1866-aft. 1880)
Lewis F. Hanes (abt. 1868-aft. 1880)
Susan Hanes (abt. 1872-1880)
Myrtle Hanes (abt. 1877-aft. 1880)

------------

Children of Henry Harrison Hanes and Nancy Williams
Sallie Hanes (1864-?) m. Dalton Smith
Martha Ann Hanes (1865-1926) m. John Wesley Walker (1844-1920), s/o William Walker and Anna Howard
John Hanes (1866-?) m. Rose _______, (moved to OK)
Mary Bet Hanes (1869-1932) m. James W. Laird (1857-1931), s/o Levi Laird and Susanna Foster
Nancy Hanes (1871-?)
Beulah Hanes (1873-?) m. Charles Williams

Children of Henry Harrison Hanes and Nancy Beauchamp
George Clifford Hanes (1887-1969) m. Kate Howard (1891-1973)

------------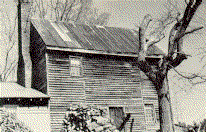 Edwin Hanes House, Clemmons Vicinity
Edwin Hanes probably built this two-story house with brick nogging in the second quarter of the 19th century. It adjoined the land owned by the Dunkers or Fraternity Church of the Brethren, and they mention Edwin Hanes in their records. Harrison Charles owned the house in the first half of the 20th century and it remains in the Charles family.
Children of Edwin Hanes and Ruth Elizabeth Ann Davis
Martin Joel Hanes (1853-1928)
Nancy E. Hanes (1854-1857)
John C. Hanes (1856-1856)
Salina C. Hanes (1857-1910)
Laura Jane Hanes (1858-1941)
Anna "Colly" M. Hanes (1860-1925)
George W. Hanes (1862-1862)
Charles C. Hanes (1863-1925)
Sarah Eliza Hanes (1867-1941)
Thomas W. Hanes (1871-1918)
This family is buried in the Hanes Cemetery on Fraternity Church Rd., Forsyth County, NC. None of the children married.
Christopher Watford's book The Civil War Roster of Davidson County names an Edwin Hanes who was killed in action at Sharpsburg MD on 17 Sep 1862, and states that his wife was Ruth Davis. This must be a confusion, since all records are consistent that George and Nancy's son Edwin married Ruth Davis, fathered a large family, and lived until 1883. But who is the Edwin who died in 1862?
-----------
Children of Augustine Hanes and Alice Bratton
*Laura V. Hanes (1861-1908) m. Olin W. Jones (1864-1923)
*Rachel Caroline Hanes (abt. 1869-after 1880)
Charles Ephraim Hanes (1870-1954)
Hattie E. Hanes (1875-1889)
Bessie Hanes (1882-1950) m. George Carter Tudor (1876-1934)
*Laura and Rachel appeared with this family on the original version of this page, based on the book The Romingers Roam, but were then removed because there was some doubt as to their identity. Revised information from Bynum Tudor indicates that they do belong to Augustine and Alice. Both appear with Augustine and Alice in the 1880 census.
-----------
Children of Col. Lewis Clark Hanes and Mary Caroline Eccles
Mary Hanes m. I. O Hart
Thomas Hanes (died young)
Ida Hanes (died young)
Frank Hanes (lived in Texas, died at age 58)
Sallie Hanes
Emma Hanes (1859-1945) m. John F.P. Reich (1853-1939)
Blanche Hanes (died young)
------------
Children of Jacob Hanes and Elizabeth J. Mock
Andrew Thomas Hanes (1852-1948) m. 1) Jennie E. Walker (1862-1886); 2) Martha Lucinda Lawrence
Molly J. Hanes (1855-aft. 1880)
------------
Children of John Phillip Hanes and Hester Ann Young
Clarissa Rachel Hanes (1867-1890)
Charles Phillip Hanes (1869-1957)
Sarah Elphony (Sallie) Hanes (1870-1954)
John Marion Hanes (1872-1944) m. Cella Faircloth
Mary Bettie Hanes (1875-1963). Never married.
Vallie Belle Hanes (1876-1947)
William Harrison Harmon Hanes (1878-1948)
George Marvin Hanes (1880-1959)
Lucy May Hanes (1883-1961)
Katie McClain gave us the birth and death dates for this family. Katie would like to know if anyone has joined the DAR through this Hanes family. Katie's e-mail address is: katiemc@ipa.net
---
Sixth Generation
Children of Jonathan Hanes and Susanna Leatherman
Tryphena Hanes (1857-1942) m. Joseph Everhart
Matthew Hanes (1859-1935) m. Mary W. Wagoner
Robert Lee Hanes (1863-1924) m. Mariah Josephine Disher
David J. Hanes (1866-1935) m. Christina (Tenie) Woosley, d/o Thomas H. Woosley and Martha Shelhorn
Laura L. Hanes (1878-?)
-------------
Children of Spencer Joseph Hanes and Mary Jane Clement
Sallie Alexander Hanes (1866-1960). Never married.
John Clement Hanes (1869-1895). Never married.
Jacob Franklin Hanes (1871-1942). Never married.
----------
Children of Pleasant Henderson Hanes and Mary Lizora Fortune
Katherine Hanes (1878-1865)
Pleasant Huber Hanes (1880-1967) m. Evelyn Hazen (1885-1975)
William Marvin Hanes (1882-1931) m. Nona Swank (1885-1980)
Margaret Hanes (abt. 1884-aft.1920) m. William Olds
Frank Hanes (1887-aft.1910) m. John H. Schoolfield Jr.
Ruth Hanes (abt. 1891-aft. 1930) m. D. Douglas Craig (abt. 1884-aft. 1930)
Alexander Hanes (died in infancy)
----------
Children of John Wesley Hanes and Anna Hodgin
Daisy Hanes (1880-aft. 1920) m. Robert Lassiter (1877-aft. 1920)
Alexander Stephen Hanes (1881-1944) m. Mary Robinson (1886-1964)
Fred Moir Hanes (1883-1946) m. Elizabeth Peck (1883-?)
James Gordon Hanes (1886-?) m. 1) Emma Drewry (d. 1916); 2) Mary Ruffin
Robert March Hanes (1890-1959) m. Mildred Borden (1891-1971)
John Wesley Hanes (1892-?) m. 1) Elizabeth Michel, 2) Hope Hanger
Lucy H. Hanes (1895-1949) m. Thurmond Chatham
Edward Hanes (abt. 1898-?) Ralph Phillip Hanes (1898-?) m. Dewitt Chatham
----------
Children of Phillip Hanes and Sallie Clement Booe
Sadie Hanes (? -aft. 1927) m. R.D.W. Connor
Spencer Booe Hanes (1912-1960) m. Claire Lockhart (?-1975)
Mary Alma Hanes (?- aft. 1927) m. E.W. Crow
Blanche Hanes (1888-1966) m. Frank Clement
Philip Frank Hanes (?-1958) m. Bettie Poindexter (?-1974)
Sarah Hanes (?-aft. 1938) m. Thomas Anderson Stone (1887-1938)
John Clement Hanes (1897-1920)
---
©, 2001-2007
Faye Jarvis Moran and Elizabeth H. Harris
faye@fmoran.com, ncgen@mindspring.com

Sources

North Carolina Death Certificates, 1905-1975

Will of George Hanes, 22 September 1828, Stokes County, NC

People Named Hanes, published by Jo Linn White, 1980

Junkin, William Sumner, and Minnie Wyatt Junkin. The Henckel Genealogy 1500-1960. Ancestry and Descendants of Reverend Anthony Jacob Henckel 1668-1728. 1964, published by Henckel Family Association

Davie County census and marriage records, and a few obituaries

Thanks to Bynum E.Tudor Jr. for information on this family

This page was revised on May 7, 2001; January 4, 2003; February 1, 2004; September 11, 2006 and June 29, 2008
---
Return to List of Family Names