The Jarvis Family and Other Relatives
If you have reached us from Ancestry.com or another cached site,
please go to http://www.fmoran.com/kapp.html to see the latest version of this page.
We welcome comments and inquiries. Please write us.
Kapp Family
---
First Generation
Johann Jacob Kapp was born in 1729 in Muenchenstein, Basel, Switzerland, son of Johann and Judith Kapp, and died in 1807 in Bethabara NC. He was one of the earliest settlers there, the cornerstone of his house having been laid in November 1754, and he served the community as a miller. His first wife was Margaretha Schor, who died after the birth of a daughter in 1777. The Moravian diaries report that the newborn "Little Magdalena Kapp, poor motherless baby, was today given to Sister Barbara Schor; the departed Sister Kapp had asked this of her." Barbara Schor is presumably Margaretha's sister-in-law, but which one? Two of her brothers, Friedrich and Heinrich Schor, both had wives named Barbara.
The Moravian diaries in 1778 called attention to the plight of Johann Jacob, a widower with four small children, and little help either in running the mill or his household, and recommended that he marry again. Three different women were suggested by the church leaders as possible wives, but all declined the proposal. The fourth, Elisabeth Everit, accepted, and they were married in May 1779. She died in 1782, and he married again, this time to Louisa Dull. Johann Jacob died in 1807; Louisa survived him, and lived until 1841.
---
Second Generation
Children of Johann Jacob Kapp and Margaretha Schor
John Jacob Kapp (b. & d. 1766)
Joseph Friedrich Kapp (1767-?) [date corrected 11/3/00] m. Barbara Feiser
Anna Maria Kapp (1771-1839) m. Johann Heinrich Hauser (1770-1832)
Heinrich Kapp (1773-?) m. 1) Maria Johanna Leinbach (1771-1797), 2) Salome Beck, d/o Johann Martin Beck and Maria Catherine Gibler
Maria Magdalena Kapp (1777-?)

Children of Johann Jacob Kapp and 2) Elizabeth Everitt
Christina Kapp (died as a child)

Children of Johann Jacob Kapp and 3) Louisa Dull
Louisa Elizabeth Kapp (known as "Little Louisa")
John Jacob Kapp (1784-?)
---
Third Generation
Probable child of Heinrich Kapp and 1) Maria Johanna Leinbach
Christine Kapp m. Johann Franz Seiz (1791-aft. 1870)

Children of Heinrich Kapp and 2) Salome Beck
Maria Kapp (1799-?), may have died young
Henry Kapp (1800-?)
John M. Kapp (1802-?) m. Fannie Null (ca. 1806-1884). Did he also marry Mary Cochran?
Rebecca Kapp (1804-1875) m. Samuel Stoltz (1800-1888)
Catherine Kapp (1806-after 1860) (did not marry?)
Charity Kapp (1809-1868) m. John A. Styers (1816-1892)
William W. Kapp (1811-1903) m. Permelia C. Shore (1828-1922)
Thomas Jefferson Kapp (1814-1875) m. Mary Paulina Miller (1822-1890)
Alexander Hamilton "Sanders" Kapp (1818-1884) m. Angeline Saturla Ogburn (1818-1913)
---
Fourth Generation
Children of William W. Kapp and Permelia C. Shore
Columbus Henry Kapp (1857-1943) m. Flora A. Speas (1856-1933), d/o Samuel Speas and Rachel Williams
Rufus Kapp (1859-bef. 1870)
John William Kapp (1860-1926) m. Ellen Phylena Vest (1868-1949)

-----------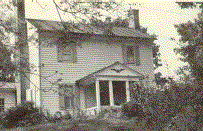 Thomas Jefferson Kapp Home
Courtesy of the City-County Planning Board, Winston Salem, NC
In the mid 1800s Thomas Jefferson Kapp built this two-story house. It features brick-nogged construction, exterior end brick chimneys, and Greek Revival-style interior woodwork. Kapp, the father of Thomas Eugene Kapp, whose house stands across the road, operated a saw-mill. The Thomas Jefferson house is no longer owned by his descendants.
Children of Thomas Jefferson Kapp and Mary Paulina Miller
John Henry Kapp (1843-1896) m. Sarah Elizabeth Lehman (1849-1929)
Amanda Elizabeth Kapp (1848-1926) m. 1) Anthony Virgil Stoltz (1848-1895), 2) Francis Morris
Elmira J. Kapp (1849-1934) m. Alfred Erastus Shore (1854-1918)
Thomas Eugene Kapp (1853-1941) m. 1) Almira A. Schaub, d/o Elias Schaub and Lydia Greter; 2) Lillie Sides, d/o Ambrose Edwin Sides and Sarah Catherine Spaugh
Thomas Eugene Kapp was sheriff of Forsyth County in 1900; he had the first telephone installed in his home because Mrs. Kapp did not like being alone when he was called away.
------------
Children of Alexander Kapp and Angeline Saturla Ogburn
William Washington Kapp (1840-1934) m. Elizabeth McGee
Aurelian Kapp (1843-1922) m. Gaston Jacob Helsabeck (1844-1911)
Adelia Kapp (1845-?) m. Joseph H. Bitting (1847-1904)
John M. Kapp (1849-1919) m. Frances C. Joyner
Adolphus Kapp (1851-1933) m. Kisiar Mogoline Clayton (1864-1945)
James A. Kapp (1852-?) m. Elizabeth Moser
Oliver J. Kapp (1858-?) m. Salena Tuttle, d/o Thomas Tuttle and Mary Shouse
Salome Elmira Kapp (1861-1926) [date corrected 2/25/04] m. Samuel Edward Styers (1855-1924)
---
Fifth Generation
Children of Columbus Henry Kapp and Flora A. Speas
Esther Kapp (1888-1976) m. David T. Stoltz
John Clarence Kapp (abt. 1885-1964)
Were there other children?
----------
Children of John Henry Kapp and Sarah Elizabeth Lehman
Jamie Lynn Kapp (1870-1940) m. Bertha Huff (?-1933)
Thomas E. Kapp (ca. 1873-1960)
Emma A. Kapp (ca. 1876-1946) m. Sihon Cicero Ogburn (1875-1973)
Dr. Henry Herman Kapp (1880-1933) m. 1) Rosa Estelle Hege (1883-1923); 2) Emily P. Vaughn (1897-1981)
Mary A. Kapp (1883-1968) m. Ernest E. Kapp, s/o Thomas Eugene Kapp and Almira Schaub
----------
Children of William Washington Kapp and Elizabeth McGee
Laura A. Kapp (ca. 1877-1960) m. John W. Caudle
Adelia Kapp (1879-1966) m. Albert Eugene Stanley
Fannie B. Kapp (1882-1967) m. M. B. Wolfington
Martin Luther Kapp (1885-1970) m. Ollie Merth "Myrtle" Stanley
Walter C. Kapp (1887-1953) m. Laura Mateer (?-1972), d/o James Mateer and Elizabeth Sizemore
Ludie/Lula Kapp (abt. 1891-1972) m. D.S. Walker
William E. Kapp (1895-1979)
Gertrude M. Kapp (1898-1971) m. Raymond C. Brinkley (?-1962)
----------
Children of Adolphus Kapp and Kisiar Mogoline Clayton
Henry Evander Kapp (1898-aft. 1917) m. Norma Alaphare Shumate (?-1971), d/o Mark Shumate and Minnie Dallas Hall
---
Sources
Oak Summit Its Community and Church 1800-1951
Personal communications with Martha Kapp. Martha's email address is: KappSFISH@AOL.COM
Records of the Moravians in North Carolina, 12 volumes; Publications of the North Carolina Historical Commission.
Forsyth Co. NC Cemetery Records
Thanks also to Tonya Overby!
This page was revised on February 27, 2004 and January 27, 2007
©, 2001-2007 Faye Jarvis Moran
faye@fmoran.com
---
Return to List of Family Names
Return to the Jarvis Family Homepage